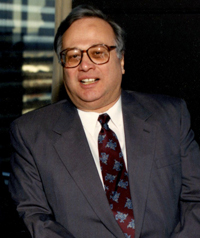 Leonard Nathanson, professor of English, emeritus, and an influential scholar in the field of Milton studies, died Oct. 27 in Nashville. He was 83.
Nathanson had served as an associate editor of the nine-volume A Milton Encyclopedia (Bucknell University Press, 1978-83) and as a reading editor of the Journal of English and Germanic Philology. In addition to several articles on Milton, he was also the author of one of the definitive studies of Sir Thomas Browne, The Strategy of Truth: A Study of Sir Thomas Brown (University of Chicago Press, 1967). He also was a patron of modern art.
Born in Brooklyn, New York, Nathanson received his bachelor of arts from Brooklyn College in 1954. He had won a scholarship to complete a certificate in Shakespeare and Elizabethan drama at the Shakespeare Institute in Stratford-upon-Avon. Nathanson then earned a master of arts in English from Duke University in 1955 and completed his doctorate in English and comparative literature from the University of Wisconsin in 1959.
Nathanson was a teaching assistant at the University of Wisconsin, an instructor at Northwestern University and an assistant professor of English at the University of Cincinnati before coming to Vanderbilt in 1966. He joined the faculty as an associate professor of English. During his 32 years of teaching at Vanderbilt, he offered a wide range of classes, including undergraduate and graduate courses in 17th-century British literature and John Milton.
Nathanson became an emeritus professor in 1998. He was a member of the American Association of University Professors, the Milton Society of America, and Phi Beta Kappa.
He was preceded in death by his parents, Morris and Lena Kelman Nathanson. He is survived by his older sister, Muriel Brown; his nieces, Claudia Carter and Beth Levine; his nephew, Andrew Brown; his great-nieces, Erin Carter, Ellen Levine and Rachel Carter; and many former students and dear friends.
Philip Phillips, associate dean and professor of English at Middle Tennessee State University, contributed to this story.