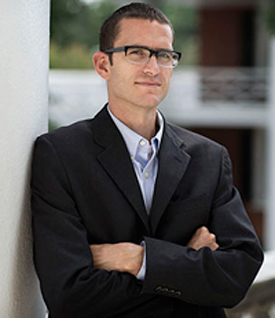 Willis Jenkins, who has focused a significant portion of his research on how religious communities can put their faith into action to address imminent environmental challenges, will deliver the 2015 Howard L. Harrod Lecture Nov. 12.
Jenkins' talk, "Feast of the Anthropocene: Food and Religion in the Time of Climate Change," will begin at 7 p.m. in the Vanderbilt Divinity School Reading Room.
Jenkins, an associate professor of religion, ethics and environment at the University of Virginia, is the author of The Future of Ethics: Sustainability, Social Justice, and Religious Creativity (Georgetown 2013). His book received the 2014 American Academy of Religion Award for Excellence.
"My talk will explore why there is such a cultural fascination with food and will suggest how it connects with some of the most overwhelming features of climate change," Jenkins said. "In particular, I'll look at how food movements matter for the environmental imagination, what to make of the religious vocabularies they sometimes carry, and whether they confront or avoid questions of political justice."
Jenkins previously worked with Vanderbilt Divinity School Dean Emilie Townes on a conference on climate injustice when they were faculty colleagues at Yale Divinity School.
This annual lecture pays tribute to the late Howard Harrod, who worked extensively in environmental ethics and activism as the Oberlin Alumni Professor of Social Ethics and Sociology of Religion at Vanderbilt.
Past Harrod Lectures have been delivered by Catherine Keller, Ray Suarez, David Loy, Tom Dillehay, Mark D. Jordan, Norman K. Gottwald, Melissa Snarr, Lewis Baldwin and Michelene Pesantubbee.
Video of Jenkins' lecture will be posted after the event on the Vanderbilt Divinity YouTube channel. For more information, contact Sha'Tika Brown or call 615-936-8453.