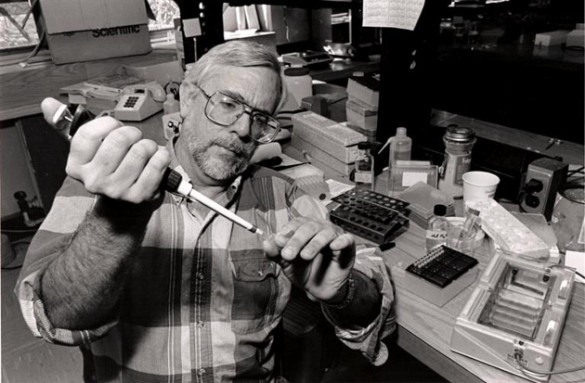 David Evan McCauley, for 35 years a biologist, teacher and researcher at Vanderbilt University, died Oct. 30 in Nashville. He was 65.
McCauley's research interests included the genetics of insects such as the milk weed beetle and plants such as the bladder campion, or Silene vulgaris, and Queen Ann's lace, or Daucus carota. He taught evolution and population biology to generations of Vanderbilt students.
"Dave was just a wonderful scholar, teacher, mentor and friend to many of us," said Douglas G. McMahon, the Stevenson Professor of Biological Sciences and chair of the department at Vanderbilt. "He was extremely good natured with a great, dry sense of humor. He'll be missed."
Born in 1950 in Baltimore, McCauley earned his undergraduate degree from the University of Maryland at College Park and then his Ph.D. from Stony Brook University. He began his career as a research assistant at the University of Chicago in 1976, moving on to the University of Virginia in 1979 and then Vanderbilt in 1980.
McCauley, professor of biological sciences, was published more than 100 times during his career, and his research was often funded by the National Science Foundation. He spent many of his summers at the Mountain Lake Biological Station in Virginia.
"Dave McCauley was an inspiring, genuine and incredibly intelligent scientist," said Jennifer Mandel, assistant professor of biological sciences at the University of Memphis. "As my graduate adviser and mentor, he took the time to train me in the lab, in data analysis and in writing. We continued to collaborate on new projects after I graduated from Vanderbilt, and we even received a grant from the USDA to fund our work. I owe so much of my academic success to his training and influence in our field. I will really, really miss our scientific collaboration, and most of all, the conversations."
McCauley was a member of the Society for the Study of Evolution, Ecological Society of America, American Men and Women of Science, and Entomological Society of America.
Survivors include wife Patricia L. McCauley; children Michelle and Joseph McCauley; and sister Nancy Palermo (Nicholas).
A memorial service was scheduled at 7 p.m. Nov. 5 at Benton Chapel on the Vanderbilt campus. The family requests that in lieu of flowers, memorial contributions be made to the American Brain Tumor Association, 8550 W. Bryn Mawr Ave., Ste. 550, Chicago, IL 60631.