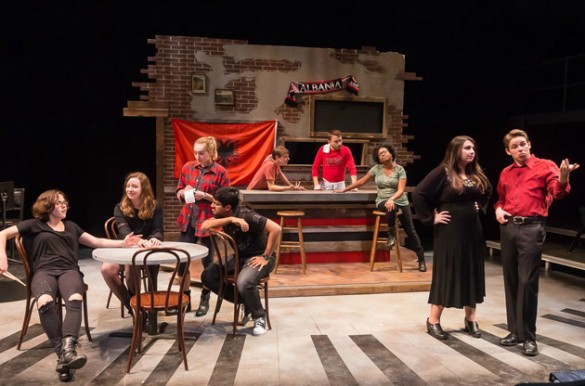 Vanderbilt University Theatre will perform City of Songs, an original play with a darkly comedic look at what it means to live and work in Nashville, Nov. 6-8 and 12-14 at Neely Auditorium.
All shows begin at 8 p.m. with the exception of the performance Nov. 8, which is a 2 p.m. matinee.
"We are pleased to debut this original play written by playwright and actor Brian Granger along with some of our student cast members," said Leah Lowe, associate professor of theatre and chair of the department. "The story riffs off the book selected for this year's Commons Reading, The Madonnas of Echo Park, which all incoming first-year students are required to read."
"City of Songs introduces us to a quirky Albanian American couple–owners of a halal hamburger restaurant in East Nashville," said Granger, who is directing the production. "The couple takes the audience along on its personal journey into confrontations with labor issues, artistic ambition, asylum and immigration, racial struggle, love, family and community belonging in contemporary Nashville, all seen through the couple's eyes and the experiences of their children."
Granger earned his doctorate in theater at the University of California at Santa Barbara. His research interests include public performance, musical theater, African American theater, world music-theater forms, dance theater, and adaptation–particularly poetic adaptation for the stage.
General admission for City of Songs is $10. Tickets are $7 for Vanderbilt graduate students and free for undergraduates with a Vanderbilt ID. Reserve tickets here, or pick them up at the Sarratt Box Office.