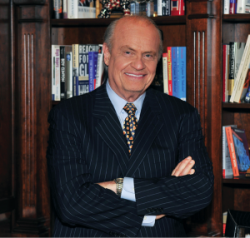 Fred Thompson, who began an illustrious legal and political career after graduating from Vanderbilt Law School in 1967, died Nov. 1. He was 73.
"We all feel the loss of Senator Thompson," Vanderbilt Chancellor Nicholas S. Zeppos said. "He served his country during a dark, difficult time and throughout his career, he stood up for what he believed in. We are grateful for his service to our state and to the nation and took great pride in calling him one of our own. We extend our most sincere condolences to his family."
A native of Lawrenceburg, Tennessee, Thompson made his way through law school with the help of a scholarship and by working weekends.
He began his legal career in Lawrenceburg and served as assistant U.S. attorney in Nashville from 1969 to 1972. He was campaign manager for Howard Baker's successful run for the U.S. Senate in 1972. Baker then asked Thompson to serve as chief minority counsel for the Watergate Committee, on which Baker served.
Thompson later was himself elected to the Senate in 1994 in a special election to fill the seat vacated by Al Gore, and was re-elected in the 1996 election with 61 percent of the vote. He announced in 2002 he would not run for re-election. He made a brief run for the presidency in 2007-2008.
Thompson maintained his connections with Vanderbilt, including serving as Vanderbilt Bar Association president in 1971-72 and participating in panel discussions and seminars in the 1980s. He was named Vanderbilt Law School's Distinguished Alumnus in 2001.
In a 2014 article in Vanderbilt Law magazine, Thompson said his role in the Watergate committee whose investigation led to the resignation of President Richard Nixon made him change his mind about entering politics. "Because of Watergate, I had seen it all up close," he said. "I became increasingly concerned about the direction of the government—excessive growth, unsustainable spending bound to lead to a weaker economy, centralization and moving away from founding principles. [lquote]When Al Gore's Senate seat became vacant, it was 'put up or shut up' time."[/lquote]
As chair of the Government Affairs Committee, Thompson tried to point out some of the problems he saw in government, he said in that same interview: "You do your incremental part. You try to make the right speech at the right time. You persuade your colleagues in private on the issues. At the end of the day, you're one of 100, and there are many different ways you can contribute. It's important not to be defined by certain causes or pieces of legislation."
Thompson also gained national visibility as an actor who garnered significant TV and movie roles, including several seasons as district attorney Arthur Branch in the long-running TV series Law & Order as well as roles in more than 20 movies, including The Hunt For Red October, Die Hard 2 and In the Line of Fire.
Thompson is survived by his wife, Jeri Thompson, and their children Hayden and Sammy; his brother, Ken; his adult children Tony and Dan; and several grandchildren.