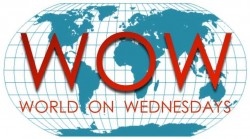 International Student and Scholar Services invites you to World on Wednesdays, where the Vanderbilt community engages in presentations, informal conversations and topical lectures on global issues.
Topic: "Minority as Majority: The Importance of Increased Multicultural Competence in a Changing World"
Kehsi Iman Wilson from Vanderbilt's Inclusion Initiatives and Cultural Competence office will present on the renewed importance of multicultural competence. The landscape of the United States is shifting dramatically. According to the U.S. Census Bureau, by 2050 non-Hispanic whites will make up only 47 percent of the population. The continent of Africa now has more than 1 billion people and is one of the fastest-growing populations, set to quadruple in the next century. With such major changes in the global and domestic landscapes, multicultural competence is of increasing importance. Wilson's presentation will explore the changing face of the society in which we live.
When: Wednesday, Nov. 11
Time: Noon–1 p.m.
Where: Student Life Center, lower level rooms 1 and 2
Questions: Contact derrick.m.stevens@vanderbilt.edu or isss@vanderbilt.edu.