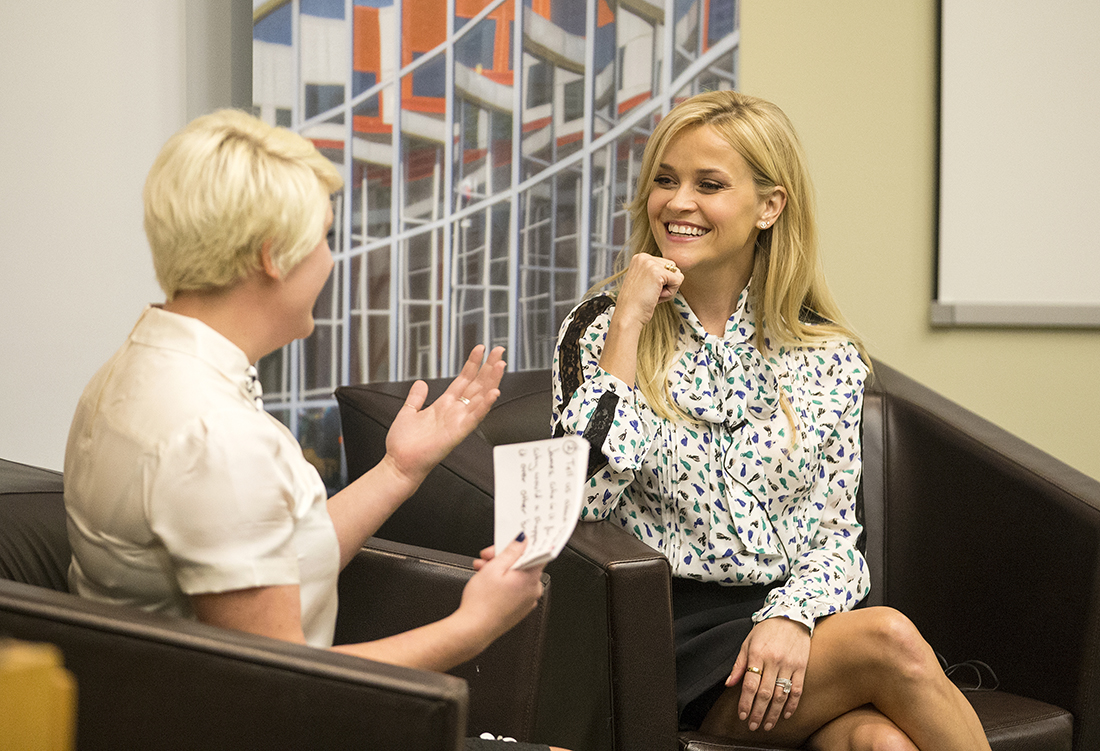 When actress and Nashville native Reese Witherspoon shot a movie in Atlanta several years ago—smack in the middle of a culinary and artistic renaissance—she realized there were no stores that captured those uniquely Southern experiences, everything from tailgating to sprawling Sunday suppers.
"I was being approached at that time by some big American brands to represent their businesses," she said during a Q&A with students Oct. 27 at the Owen Graduate School of Management. "But then I thought, 'why isn't anybody telling these Southern stories?'"
Witherspoon's first inclination was to start a blog showcasing the lifestyles of a new kind of Southern woman—those with a cosmopolitan bent who, like her, have come to embrace their hometowns in cities like Atlanta, Nashville and New Orleans (not unlike Witherspoon's film Sweet Home Alabama).
The blog, however, was a non-starter. "This is a terrible idea," Witherspoon's husband, talent agent Jim Toth, told her. He said she would quickly gain a huge following, and then do what? "Eventually, I'm going to sell to them." Why don't you just skip the blog part, he asked, and start selling now?
Thus was born Draper James, which falls somewhere between Tory Burch and You Greek, Me Greek. With backing from Forerunner Ventures—the financing company behind brands like Warby Parker, Bonobos and Serena & Lily—Draper James (named for Witherspoon's grandparents) launched online in May and opened its flagship store in Nashville's 12th South neighborhood in October. As a side note, the store, Witherspoon said, "looks exactly" like her own house.
Sales from Draper James benefit Girls Inc., a national non-profit that helps young girls set and achieve life goals.
As part of the Vanderbilt Q&A, members of the Women's Business Association at Owen asked several elementary school girls what they would ask Witherspoon if they had the chance. Like the graduate school women themselves, the girls wanted to know how the actress and mother does so much: Running a Hollywood production company, launching a retail business, making blockbuster films and having three children.
[quoteitright]
"If I lean in any more, I'm going to fall over."
[/quoteitright]
"I can't sit here and say I have the typical life experience," Witherspoon said, explaining that she has a supportive staff that helps her manage everything. But, she added, "If I lean in any more, I'm going to fall over." Nevertheless, it's important to keep seeking new challenges and opening different chapters in life, she said.
When things do get rough, however, Witherspoon says she thinks back to advice given to her by a former NCAA softball coach who was helping her while working on a movie: "You're allowed to have one bad inning, but you're not allowed to have seven. So give yourself a minute to feel rotten, and then move on."
—Ryan Underwood
---