Media Inquiries
Latest Stories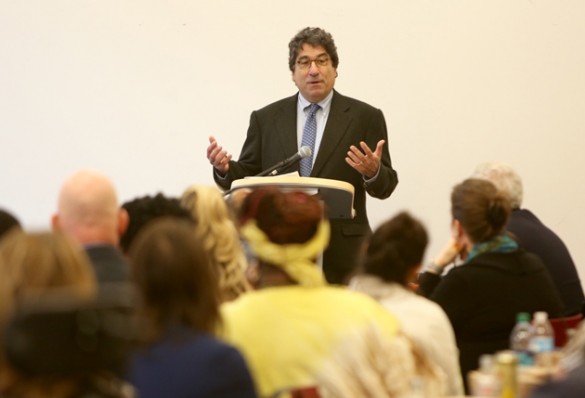 Diversity is essential to Vanderbilt's future as a leading academic institution, Vanderbilt Chancellor Nicholas S. Zeppos told a group of Tennessee community and business leaders this week.
"[rquote]Diversity is central to what we do and is an exciting part of our mission. Learning doesn't happen in a classroom filled with people who all have the same backgrounds," he said.[/rquote] "We need voices with different stories and different viewpoints. It can be uncomfortable at times to challenge people's assumptions, but those conversations are central to how people learn."
Zeppos spoke on Oct. 26 to more than 100 people participating in the inaugural Workplace Diversity Tour presented by the Nashville-based National Organization for Workforce Diversity. After a morning bus tour of sites representing and serving the diverse Nashville community, including Hindu, Muslim and Jewish congregations and Tennessee State University, the group gathered at Casa Azafrán to hear Zeppos speak. An afternoon of workshops followed, and the day closed with a dinner and keynote presentation by Chattanooga Mayor Andy Berke.
Zeppos told the audience about Vanderbilt's intentional progression in building a more diverse community, pointing to the university's need-blind admissions process and expanded financial aid program as important steps.
"Our student body is smart, talented and increasingly diverse," Zeppos said. "We were intentional in making these changes. We want our students to be local and global leaders, and that won't happen if they aren't educated in a diverse community."
Diversity and inclusion are key initiatives for the university. Zeppos announced at the fall faculty assembly that he had established a committee to work on issues of inclusion, diversity and community along with a separate advisory committee to provide counsel to him.
At the diversity luncheon, Zeppos also discussed the Fisk-Vanderbilt Master's-to-Ph.D. Bridge Program, the Meharry Vanderbilt Alliance and Vanderbilt's participation in the newly established Coalition for Access, Affordability and Success.
"We should be a beacon for inclusivity and diversity in the community," he said. "Nashville is a beautiful mosaic. Organizations who don't change will be left behind."