Media Inquiries
Latest Stories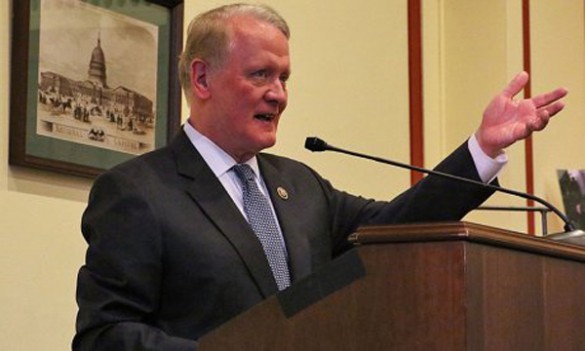 Vanderbilt University participated in a reception and exhibition on Capitol Hill in Washington, D.C., to commemorate the 50th anniversary of the National Endowment for the Humanities.
Vanderbilt co-sponsored the Oct. 20 event, which took place in the Rayburn House Office Building, and provided an exhibit highlighting recent NEH-supported work at Vanderbilt. The exhibit, organized by Vanderbilt's Office of Federal Relations, featured a series of clips from the Vanderbilt Television News Archive and books by Vanderbilt faculty, including Julia Cohen, associate professor of history and modern Jewish history; James Epstein, Distinguished Professor of History; and Daniel Sharfstein, professor of law and history.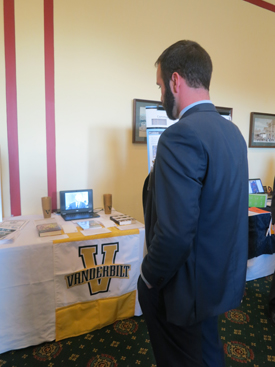 The event was co-hosted by Rep. Leonard Lance (R-NJ), a 1977 alumnus of Vanderbilt Law School, and Rep. David Price (D-NC). The two are co-chairs of the Congressional Humanities Caucus. Both Lance and Price spoke at the reception, as did William "Bro" Adams, chairman of the National Endowment for the Humanities; Hunter R. Rawlings III, president of the Association of American Universities; and David Marshall, president of the National Humanities Alliance and executive vice chancellor of the University of California–Santa Barbara. Other co-sponsors of the reception included the AAU, National Humanities Alliance, Phi Beta Kappa, Association of Public and Land-Grant Universities, American Council of Learned Societies, Community College Humanities Association, Council of Graduate Schools, Rutgers University, the University of North Carolina–Chapel Hill and North Carolina State University.
Members of Congress who attended the event included Lance, Price, Rep. Steve Cohen (D-TN), Rep. Sheila Jackson-Lee (D-TX), and Rep. Paul Tonko (D-NY).
NEH Chairman Bro Adams will speak at Vanderbilt on Tuesday, Oct. 27. Details of the lecture are available here.