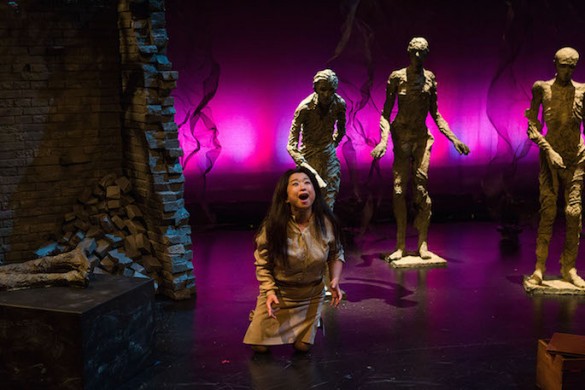 In the next few weeks, the Blair School of Music will present two operas diametrically opposed in style, scale and staging.
On the Threshold of Winter, staged with a single singer, eight instrumentalists and a conductor, will be performed Oct. 30 for only the third time since its premiere at the Brooklyn Academy of Music in June 2014. Created by American composer Michael Hersch, the one-person performance focuses on illness and death from cancer.
Two weeks later, Nov. 13–15, Vanderbilt Opera Theatre will stage Mass by Leonard Bernstein, which was written in 1971 for the opening of the Kennedy Center in Washington, D.C. The massive cast will include nearly every Blair undergraduate, along with some of the school's precollege students, as either vocalists or members of various choirs, orchestras or small ensembles.
"I think the juxtaposition is wonderful," says Mark Wait, Martha Rivers Ingram Dean of the Blair School of Music. "[rquote]Having these two very different works performed so closely together vividly demonstrates the breadth of operatic music and drama in the past half-century."[/rquote]
From intimate to overwhelming
This is the third time during the past five years that Hersch has worked with the Blair School. Images from a Closed Ward, commissioned for the Blair String Quartet, premiered at Carnegie Hall and Blair in 2012. Earlier this year, in February, Zwischen Leben Und Tod, a piece commissioned for Carolyn Huebl, associate professor of violin, and Dean Wait on piano, premiered on campus at Ingram Hall. On the Threshold of Winter, not commissioned by Blair, evokes what Hersch felt after losing a close friend to cancer while battling the disease himself. Its libretto is taken from the deathbed poems of Romanian writer Marin Sorescu.
"In the context of the previous Blair commissions, the monodrama is right in the middle," Hersch says, "At the time it premiered at Brooklyn Academy of Music, I was working closely with Mark on the piece that premiered in February. All three are organically entwined with the work of other artists—the other two, visual art; the opera with poetry. They're unique in my output in that way."
The Hersch opera was originally to be produced at Blair without the original sets that included sculptures by Christopher Cairns, but the production will now be fully staged. All but one of the original musicians—the Nunc Ensemble led by violinist Miranda Cuckson, conductor Tito Munoz and soprano Ah Young Hong, who carries the entire performance for two hours—will present the piece. Felix Wang, professor of cello, will join Nunc for this performance.
"I'm very excited about what will happen at Blair," Hersch says. "From the beginning I've imagined the visual elements of the production to be rather narrow and claustrophobic, constrained because the content is so psychologically and emotionally unrestrained. The production here affords this."
The lighting designer for both productions is Anne Willingham, resident lighting designer for the Nashville Shakespeare Festival.
"You'd be hard-pressed to find any institution that would put two pieces like this together in such close proximity," Hersch continues. "[lquote]These two are of such different physical scale, but both make large statements in different ways."[/lquote]
That large statement—and large production—is what drew Gayle Shay, associate professor of voice and director of Vanderbilt Opera Theatre, to Mass.
"I've wanted to do Mass since I saw a production at Colorado Opera in Denver," says Shay. "It was overwhelming. I'd call it one of my top five theatre experiences." Shay had discussed for a long time the idea of staging Mass with Robin Fountain, professor of conducting and director of the Vanderbilt Orchestra, and Tucker Biddlecombe, associate professor of choral activities and choral director, but it wasn't until recently that all the necessary ingredients—everything from schedules lining up to finding the right cast members—came together.
"It's not a typical opera," Shay explains. "It's not a typical anything."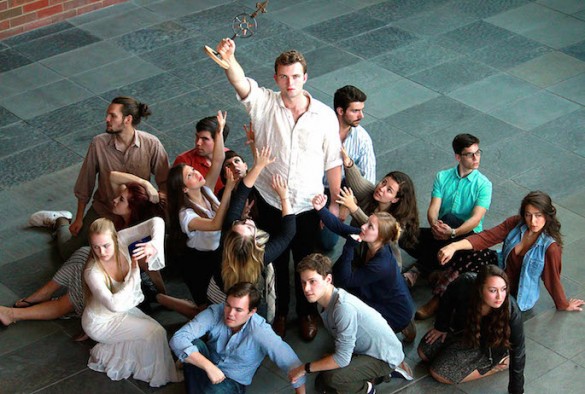 The libretto is by Stephen Schwartz of Godspell, Pippin and Wicked fame and even includes a few lines "given" to Bernstein by singer-songwriter Paul Simon. Bernstein included not just classical music in the score, but also recorded sound, blues and folk music, a rock band, dancers, even a marching band.
"We can't quite manage to get a marching band on the Ingram stage," Shay says, "but there will be 100 singers (20 in the Blair Children's Chorale, the Mass choir of 60 voices, 18 street players and the leads), 30 instrumentalists on stage, 50 players in the pit, enormous sets of percussion—this is Bernstein after all."
The central character is the celebrant, in this production, a recent Vanderbilt graduate leaving college to save the world, but the world keeps intruding to the point that he questions and then loses his faith. It is faith in humanity that saves him.
"It feels not so different now than when Mass premiered," Shay says, "that sense of separation, that schism in society. And what serves to unify people? Music."
"It's notable that Vanderbilt is doing this kind of programming," Hersch says. "To be doing anything new involves risk, and the artistic world needs leaders who will take risks. [rquote]That Vanderbilt invests real resources in the art of today is wonderful not only for the community, but for the health of the culture more broadly."[/rquote]
On the Threshold of Winter by American composer Michael Hersch will be presented at 8 p.m. Friday, Oct. 30 in Ingram Hall with soprano Ah Young Hong, the Nunc Ensemble and conductor Tito Muñoz. The fully staged production will have supertitles for the text.
Leonard Bernstein's Mass will be presented by Vanderbilt Opera Theatre (Gayle Shay, director), Vanderbilt University Orchestra (Robin Fountain, conductor) and Vanderbilt University Choirs (Tucker Biddlecombe, director) at 8 p.m. Friday, Nov. 13, and Saturday, Nov. 14, and at 2 p.m., Sunday, Nov. 15, in Ingram Hall.
All performances are free and open to the public with ample free parking in West Garage, across the street from the school.
Both operas are sponsored by the Mary Cortner Ragland Master Series Fund and presented with gratitude to the parent of a Blair School graduate for his generous support.