Media Inquiries
Latest Stories
By Mitchell Light, BA'93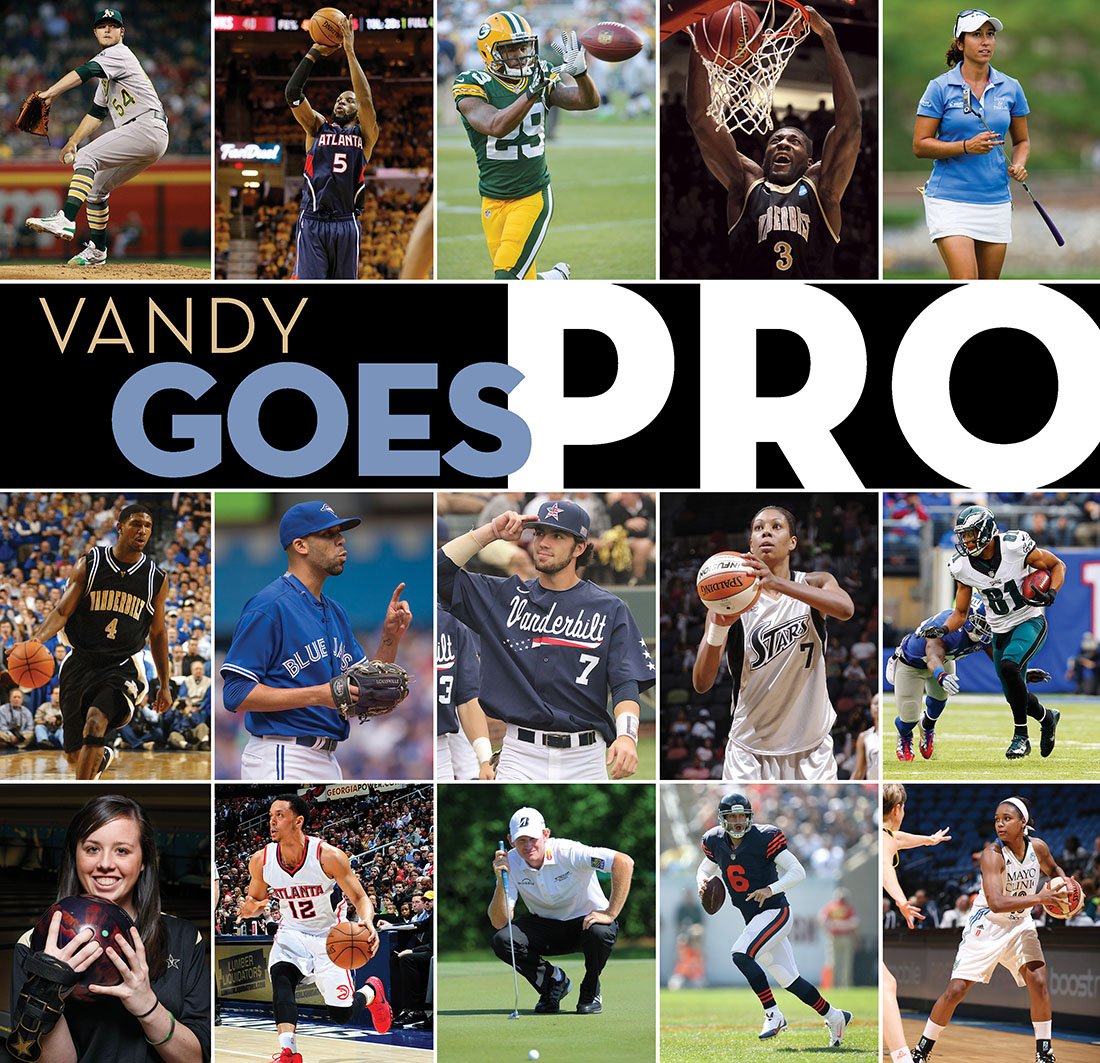 When freshman Jeren Kendall smashed a walk-off home run in the bottom of the ninth inning of the Commodores' first game of the 2015 College World Series, Twitter exploded.
Among those (virtually) cheering the loudest were several high-profile professional athletes who only recently were playing for the Black and Gold. "Letssssssssss gooooooooooo baby," tweeted Casey Hayward, BA'13, starting cornerback for the Green Bay Packers. 2014 WNBA draft pick Christina Foggie, BS'14, proclaimed that "Champions NEVER give up!!!" PGA Tour veteran and winner of the 2012 FedEx Cup Brandt Snedeker, BA'03, marveled, "Unbelievable!! #CHAMPS."
For one of the Commodores' biggest fans, All-Star pitcher David Price, who was drafted from Vanderbilt in 2007, sending a congratulatory tweet wasn't enough. He wanted to help celebrate the team's win through a postgame online video chat because he couldn't be there in person as he had been a few days earlier. "I was watching the game in the clubhouse and talked to all the guys when they were on the bus. I had Miggy [that is, likely future Hall of Famer Miguel Cabrera] talking to the guys," says Price, now a Toronto Blue Jay but at the time a member of the Detroit Tigers. "What a win. It was a great moment for the program."
It was also a great moment for Commodore athletics, highlighting that Vanderbilt is indeed a place that can help top players turn pro while also getting a world-class education.
"Playing professionally was something my dad and I talked about as a legitimate career option," says Marina Alex, BA'12, one of three former Commodores currently on the LPGA Tour. She identified Vanderbilt as having the perfect balance of athletics and academics when she was choosing a school in 2007. "I wanted to make sure I had the best opportunities from both an athletic standpoint and an academic standpoint. Vandy gave me the best of both."
That's exactly what Vanderbilt tries to achieve, says David Williams II, vice chancellor for athletics and university affairs and athletics director. "Vanderbilt's success in academics is well-known, and our many professional athletes have helped make a statement that we can indeed win both ways," Williams says. "They are tremendous ambassadors for Vanderbilt University. We are proud of them and very grateful they remain interested and active in our university and athletic department."
Vanderbilt has always sent a handful of players to the major leagues, but in recent years there's been a noticeable trend of more Commodores making it to the pros. During the 2014 season, nine Vanderbilt alumni appeared in at least one NFL game, and three others spent the season on a practice squad. The men's basketball program had three former players in the NBA last season—the most at any one point since the early 1980s—including center Festus Ezeli, BA'12, who helped the Golden State Warriors win their first NBA championship in 40 years. Josie Earnest, BS'10, a member of Vanderbilt's 2007 NCAA Women's Bowling National Championship team and twice voted NCAA Player of the Year, plays for Team USA of the Women's Professional Bowling Association and toured professionally this past summer.
In June, Jasmine Lister, BA'14, became the 10th WNBA player from Vanderbilt when she suited up for the Los Angeles Sparks. Snedeker, a Nashville native who was named SEC Player of the Year in 2003, headlines a group of six former Vanderbilt golfers—three men, three women—now playing on professional tours. And this past summer, current Vanderbilt junior Lina Granados played in the FIFA Women's World Cup for her home country of Colombia.
Then, of course, there's baseball. Under Coach Tim Corbin's watch, the Commodores have climbed to the top of the college baseball food chain with a remarkable run of elite talent. During the 2015 season, nine former Vanderbilt players appeared in the major leagues. Among them were Sonny Gray, '12, who's a leading Cy Young contender this year, and Price, a 2012 Cy Young winner and one of Major League Baseball's best pitchers.
More future baseball stars are on the way. Two recent Commodores—second baseman Tony Kemp, BA'14, and pitcher Tyler Beede, '15—played in the prestigious All-Star Futures Game in July, and three Vanderbilt players were selected in the first round of the 2015 MLB Draft, including No. 1 overall pick Dansby Swanson, '16. By way of comparison, only four former Vanderbilt players made it into the major leagues between 1950 and 2000.
"It's great name recognition for the program," Corbin says. "Amateur players look to major leaguers as the barometer of achievement, playing at the highest level. When you have Vanderbilt kids in that mix, it certainly brings much attention back to your program."
VISIBILITY TO VANDY
Men's basketball coach Kevin Stallings also sees a positive influence on recruitment when players turn pro. During his first 13 years at Vanderbilt, Stallings only coached four future NBA players, including Derrick Byars, BA'07, who played in just two games, and DeMarre Carroll, '08, who transferred after two seasons. Then came the momentous date, June 28, 2012. That's when three standouts from the Commodores' SEC Tournament Championship team were among the first 31 players selected in the NBA Draft. John Jenkins, '14, and Ezeli were both picked in the first round, while Jeff Taylor, BA'13, was the first pick in the second round.
"It's a benchmark for any program if multiple guys who had success in your program went on to the NBA," Stallings says. "Recruits listen with a different kind of interest."
It certainly made an impact on Damian Jones, a junior center on the current basketball team. Last season he was a first-team All-SEC selection and is projected to be a first-round pick in next June's NBA Draft—if he elects to forgo his senior season. Jones originally committed to Vanderbilt two months after Jenkins, Ezeli and Taylor were selected in the NBA Draft.
"That let me know the school can send guys to the NBA," Jones says. "I knew the coaches could help me get better and develop as a player and a person."
For others, such as Steven Scheu—a senior tight end on the football team—Vanderbilt offered an opportunity to compete at the highest level while also allowing him to earn an outstanding education. "The NFL wasn't a consideration when I came out of high school," says Scheu, a native of Evansville, Indiana, and the nephew of former Commodore football player Steve Ernst, BA'70. "I just wanted to go to a place that was the best fit. I knew that if I handled my business, the scouts would find me." And they did. Scheu popped up on the radar of NFL teams with a strong junior season and is projected to be a fourth- or fifth-round pick in the 2016 draft.
Earlier in his career, Scheu benefited from playing on a Vanderbilt roster that featured three future NFL wide receivers, among them Jordan Matthews, BA'13, the SEC's career leader in both receptions and receiving yards. Matthews, who now plays for the Philadelphia Eagles, has continued to mentor Scheu and the current Commodore pass-catchers.
Being a former Commodore and a professional athlete forges other bonds as well. Price says he and Ezeli regularly swap texts, while he, Gray and Snedeker have golf plans for the off-season. "We have that connection now, and everyone kind of cherishes it," Price says.
But it's not just student athletes who benefit from the Commodores' success on the field. Stallings says Vanderbilt athletes who make it to the pros bring a visibility to the university that no amount of money could buy.
"When people see the types of ambassadors we have for this place, I think that's really the ultimate," he says. "We have student athletes who are extraordinarily successful in their sport and incredible human beings."
---
Near Miss: All-Star David Price, '09, Came Close to Calling It Quits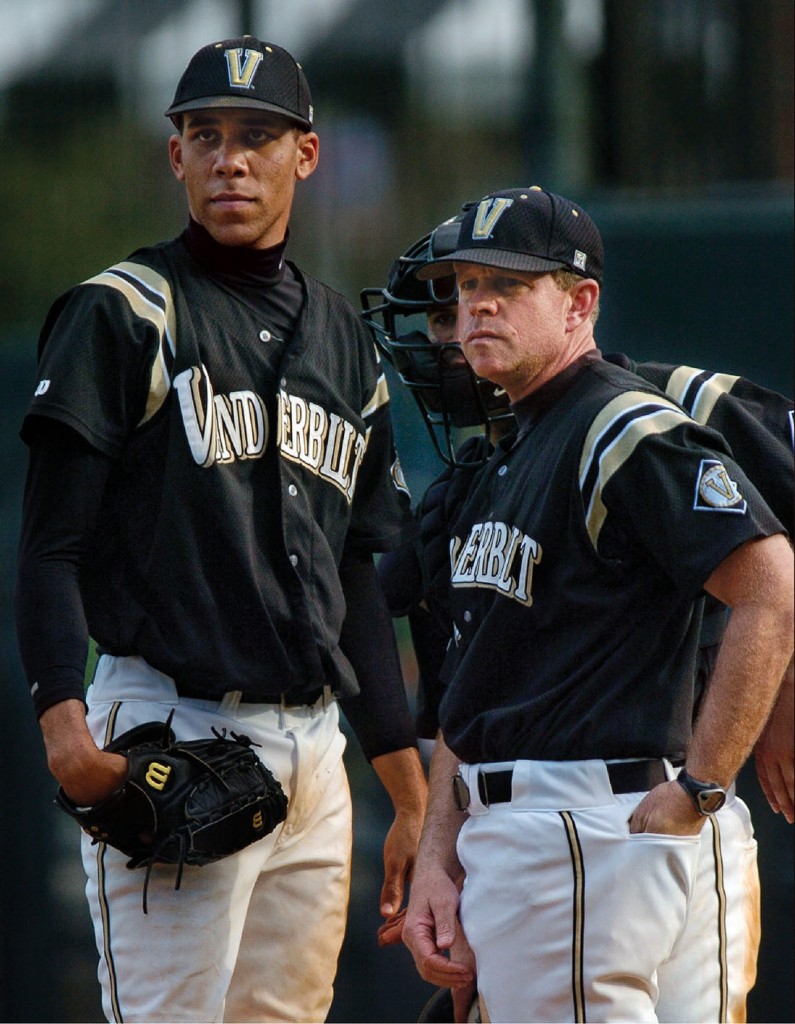 David Price is a five-time major league All-Star who is recognized as one of the top collegiate pitchers of the past decade, yet he barely made it through his first semester at Vanderbilt. After struggling both athletically and academically during his first few months on campus, Price was ready to quit school in the fall of 2004 and go work at McDonald's in his hometown of Murfreesboro, Tennessee.
"He was five minutes from leaving Vanderbilt," recalls Tim Corbin, who at the time was in his third season as the Commodores' head baseball coach. "He was last on the list of our pitchers coming out of fall practice. He didn't think he was good enough to pitch at this level."
But Price stayed at Vanderbilt—"Coach Corbin kind of reassured me that my future was in baseball," he says—and went on to enjoy a banner three-year career with the Commodores. During his last season at Vanderbilt in 2007, he posted an 11–1 record, led the nation with 194 strikeouts in 133.1 innings, and was the consensus National Player of the Year.
"His life was changed forever when he was able to withstand that moment and get over that hurdle," Corbin says today.
More than 10 years later, Price—now the star pitcher for the Toronto Blue Jays—is one of the most visible Vanderbilt alumni in the world.
"It makes me proud. He is so connected to Vanderbilt," Corbin says. "He continually tries to replicate his experiences that he had at Vanderbilt at the next level. That's a legacy I would want all our athletes to leave."
---
Great Commodore Moments in Pro Sports
---
Mitchell Light, BA'93, is an executive editor at Athlon Sports in Nashville. He also serves as sideline reporter for the Vanderbilt football radio network.
---