Black Practical Theology (2015, Baylor University Press) by Dale Andrews, MA'97, PhD'98, Distinguished Professor of Homiletics and Social Justice, and Robert Smith, editors
Black Practical Theology brings together a conversation between scholars working within the traditional disciplines of theological education and those working within practical theology. To this ongoing conversation, the editors add the voices of pastors of black congregations and other church leaders who serve the communities of faith who daily confront the challenges this work addresses—youth and intergenerational divides, education and poverty, gender and sexuality, globalism, health care, and incarceration and the justice system.
---
According to a Gallup poll, more than 70 percent of the American workforce today is unengaged, only showing up to work to go through the motions and collect their paycheck. Folk's book covers 30 techniques to re-engage employees and improve company productivity she learned and utilized during a 25-year career managing people at a Fortune 500 company. Using these practices, the book ventures that any individual charged with managing or supervising others at any level can learn to become the boss they've always wanted to be.
---
This collection of primary sources takes readers on a journey through the intellectual and cultural history of the "underground" in the 19th and 20th centuries. It demonstrates how thinkers in the United States and Europe have engaged in an ongoing trans-Atlantic dialogue, inspiring one another to challenge the norms of Western society. The readings chart the historical evolution of challenges to mainstream values—some of which have themselves become mainstream —from the beginning of the 19th century to the present.
---
The Darling (2015, University of Arizona Press) by Lorraine López, associate professor of English
Latina bibliophile Caridad falls out of love again and again, with much help from Anton Chekhov, Gustave Flaubert, Theodore Dreiser, D. H. Lawrence, Thomas Hardy, and other deceased white men of letters. Raised in a household of women, she rejects examples of womanhood offered by her long-suffering mother, her caustic eldest sister Felicia, and her pliant and sentimental middle sister Esperanza. Instead Caridad, a compulsive reader, educates herself about love and what it means to be a sentient and intelligent woman by reading classic literature written by men, and supplements this with life lessons gleaned from her relationships.
---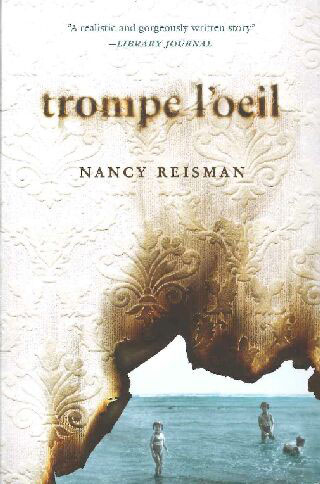 Trompe L'Oeil (2015, Tin House) by Nancy Reisman, associate professor of English
During a vacation in Rome, the Murphy family experiences a life-altering tragedy. In the immediate aftermath, James, Nora, and their children find solace in their Massachusetts coast home, but as the years pass the weight of the loss disintegrates the increasingly fragile marriage and leaves its mark on each family member. Trompe l'Oeil portrays the ripple effects of a family tragedy and the ways in which its members perceive and misperceive themselves and each other as it examines family legacies, the ways those legacies persist, and the ways they might be transcended.
---

Taking seriously democratic promises of equality and inclusion, The Capacity Contract rejects conceptions of political citizenship that privilege cognitive capacity and, instead, centers citizenship on action that is accessible to all people. As the first sustained examination of disability through the lens of political theory, the book shows how the exclusion of disabled people has shaped democratic politics.
---
Jack London: A Writer's Fight for a Better America (2015, University of North Carolina Press) by Cecelia Tichi, William R. Kenan Jr. Professor of English and professor of American studies
Jack London (1876-1916) found fame with his wolf-dog tales and sagas of the frozen North, but Tichi challenges the longstanding view of London as merely a mass-market producer of potboilers. London led a life of poverty in the Gilded Age before rising to worldwide acclaim for stories, novels and essays designed to hasten the social, economic and political advance of America. In this major reinterpretation, Tichi examines how the beloved writer leveraged his written words as a force for the future. The enhanced e-book edition of Jack London features significant archival motion picture footage.