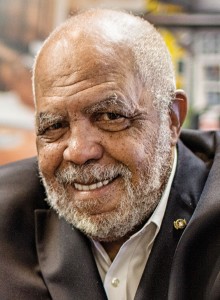 Francis Guess, a revered Nashville business leader, trailblazer in the private sector, and a champion of civil rights, died July 23. He was 69.
Known largely as a civil rights advocate and humanitarian, Guess was the first African American commissioner for the Tennessee labor and general services departments under then-Gov. Lamar Alexander, BA'62, and served 30 years as a member of the Tennessee Commission on Human Rights. Nationally, he was appointed by then-President Ronald Reagan to the U.S. Commission on Civil Rights, for which he served six years.
Raised in a Nashville public housing project, Guess also became a leader in the city's corporate business world, serving as executive vice president of management and investment firm The Danner Co. and as owner and operator of Helicopter Corporation of America. Most recently, he served as executive director of The Danner Foundation, which has given more than $10 million to Tennessee programs largely addressing education and health.
Early in his life, after serving as a U.S. Army intelligence officer during the Vietnam conflict and earning his bachelor's degree in political science from Tennessee State University, Guess became one of the first African American students to enroll in what was then Vanderbilt's new Graduate School of Management (now the Owen School) in 1972. With 33 students, his 1974 class was just the fourth graduating class in the Owen School's history.
Guess' volunteer commitments in various board and commission roles for nonprofit groups are far too numerous to list, but they included service to the National Coalition of Human Rights, American Institute for Managing Diversity, Nashville Committee on Foreign Relations, Tennessee Supreme Court Access to Justice Commission, and Country Music Hall of Fame and Museum. His 45 years of community and public service were celebrated in 2013 when he was presented the Joe Kraft Humanitarian Award by the Community Foundation of Middle Tennessee.
Guess is survived by his daughter, mother, three brothers, three sisters and extended family.
---