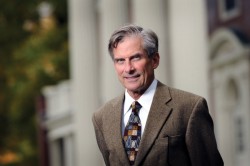 William Adams, a passionate advocate for liberal arts education who serves as chair of the National Endowment for the Humanities (NEH), will deliver the Harry C. Howard Jr. Lecture Oct. 27 at Vanderbilt.
Adams' talk, "The Common Good and NEH at 50," will begin at 4:10 p.m. in the Vanderbilt Central Library's Community Room.
Adams served as president of Colby College from 2000 to 2014. He placed a strong priority on projects related to the humanities during his tenure at the Waterville, Maine, school. He led a major capital campaign to expand the Colby College Museum of Art, create a center for arts and humanities, and expand the college's curriculum in creative writing, among other projects.
Adams also served as president of Bucknell University and previously taught at Santa Clara University and the University of North Carolina at Chapel Hill. Adams earned a doctorate from the University of California at Santa Cruz History of Consciousness program after receiving his undergraduate degree in philosophy at Colorado College. He was a Fulbright Scholar and studied in France before beginning his career in higher education.
Adams, who was born in Birmingham, Michigan, was given the nickname "Bro" by his father in honor of a friend who died during World War II.
"Adams, the 10th chair of the NEH, brings an impressive track record of leadership in higher education and the humanities to his current position," said Edward Friedman, director of the Robert Penn Warren Center for the Humanities at Vanderbilt.
The Harry C. Howard Jr. Lecture Series was established at the Robert Penn Warren Center for the Humanities in 1994 through the endowment of Mr. and Mrs. Thomas E. Nash Jr. and Mr. and Mrs. George D. Renfro, all of Asheville, North Carolina. The lecture, which is free and open to the public, honors Harry C. Howard Jr., who earned a bachelor of arts from Vanderbilt in 1951.
A reception co-hosted by the Jean and Alexander Heard Library will follow Adams' talk. For more information, email Terry Tripp or call 615-343-6240.