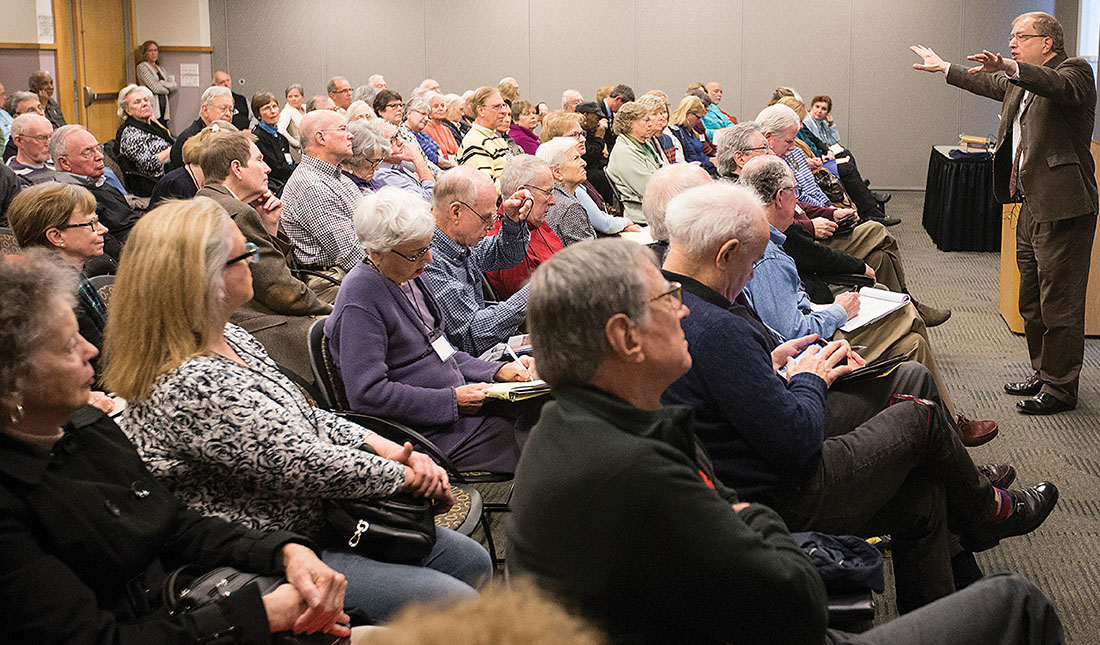 For Vanderbilt alumni, graduation doesn't mean class is over.
They flock to Alumni Association chapter-sponsored Commodore Classrooms events to learn about the connection of the blues to the Carolinas or how robotics are giving mobility to the physically disabled. Travel program trips with Vanderbilt faculty are always popular, and hundreds of alumni attend the Reunion and Homecoming weekend educational programs led by notable professors.
"Vanderbilt graduates have a love of learning and an innate drive to better themselves through the pursuit of knowledge. Programs like Commodore Classrooms provide the perfect opportunity. They are very popular with our chapter," says Chris Baity, BA'10, education chair for the Washington, D.C., Vanderbilt Chapter.
Alumni yearning for the stimulation of the classroom can find that experience anywhere with an Internet connection by taking a Vanderbilt Coursera course, or by simply enjoying a professor's expert insights on current issues or a lecture on Vanderbilt's YouTube channel.
Continuing educational programs that satisfy a variety of interests and lifestyles also are offered on campus. The Owen Executive Development Institute provides a discount for alumni looking to strengthen their business background. Saturday University, sponsored by the College of Arts and Science, offers intriguing lectures without the homework. And adults 50 and over love the stimulating trips, cultural activities and community of the Osher Lifelong Learning Institute.
As a response to this interest in educational programming, the Vanderbilt Alumni Association has created a new Lifelong Learning webpage to provide easy access to all these opportunities.
—MATT ANDERSON
---
Learn more about other Alumni Association activities in this issue's photo essay.
---