Media Inquiries
Latest Stories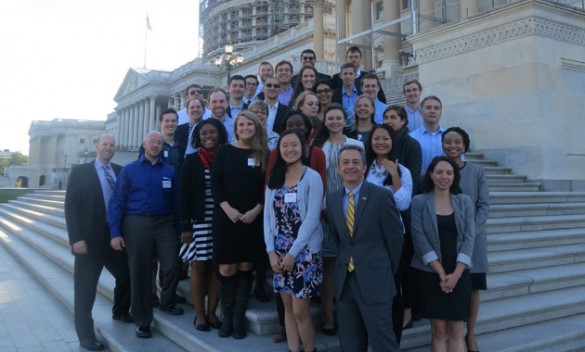 For the second year in a row, Vanderbilt students came to Washington, D.C., to participate in a two-day workshop designed to introduce them to federal issues and advocacy related to science, technology, engineering and math.
Thirty students, ranging from undergraduates to postdoctoral scholars, participated in the event, beginning with an optional tour of the National Institutes of Health on Oct. 14. This was followed by two days of speaker panels, discussion and interactive activities on federal science policy Oct. 15-16, with a special focus on how individuals with a scientific background can be part of conversations in the government sector.
The program was hosted by Vanderbilt's Office of Federal Relations in partnership with the School of Engineering, the Graduate School, the School of Medicine's Biomedical Research Education and Training Office and the Center for Student Professional Development.
"Innovation in the STEM and health fields is a key economic driver and fundamental to U.S. competitiveness. The opportunity to inspire our students toward careers in public policy through the program is important and has demonstrated effectiveness with likely future impact," said Todd Giorgio, chair of biomedical engineering at Vanderbilt University School of Engineering. "Strong student engagement and the support of trans-institutional partners for this experience over multiple years is evidence of the enthusiasm for the program at Vanderbilt. This year's program was informed by the enthusiastic responses of the participants who engaged in the successful inaugural event."
"We were delighted Vanderbilt's Washington, D.C., office could join our campus-based colleagues in offering this exciting program for a second year," said Alex Currie, director of federal relations. "It is our hope that participants took home with them an expanded view of some of the many roles they as scientists and engineers can play in our society, particularly in helping to inform and set public policies."
Additions to this year's program included the optional NIH site visit and a new interactive activity in which the students simulated constituent meetings with mock congressional staff to advocate for various science policies.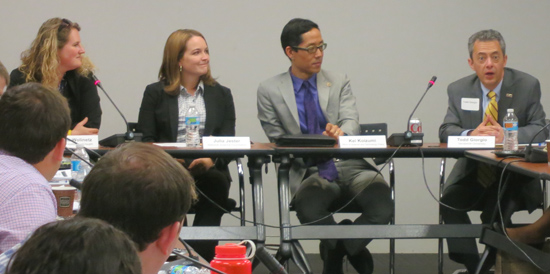 The seminar featured seven panels with 19 speakers, many of whom were Vanderbilt alumni. Speakers covered topics such as the history of U.S. science and technology policy; the federal budget process; an overview of current trends in U.S. science policy; and how associations, coalitions and professional societies work together to advance stakeholder opinions. Several panels also addressed career-oriented topics, such as the value of fellowship and internship programs and the experience of working on Capitol Hill.
Like last year, students participated in a mock congressional conference committee for the spending bill that funds many science-related agencies, role-playing the part of senior legislators to produce an agreement that set funding levels and policy priorities for the coming year while avoiding a presidential veto.
"The seminar was engaging and informative—I saw an inside perspective of a variety of policy careers and opportunities in Washington," said Brittany Caldwell, a Vanderbilt Ph.D. student in biomedical engineering. "My favorite experience was sitting in a Capitol Hill committee room interacting with a panel of staff members on legislative policy."
Douglas Dumont was inspired to pursue positions in Washington after participating in the 2014 STEM Policy Seminar as a postdoctoral scholar. He recently started at the Food and Drug Administration as an American Institute for Medical and Biological Engineering (AIMBE) Scholar.
"I attended the STEM workshop to learn more and was pleasantly surprised to find out that not only can scientists have an active voice in STEM advocacy, but many of the speakers I talked to emphasized the need for more scientists and engineers in Washington," Dumont said. "I found it extremely exciting that I could use my scientific training to help inform health care policy. My experience at the workshop inspired me to apply to the AIMBE Scholars Program."