Media Inquiries
Latest Stories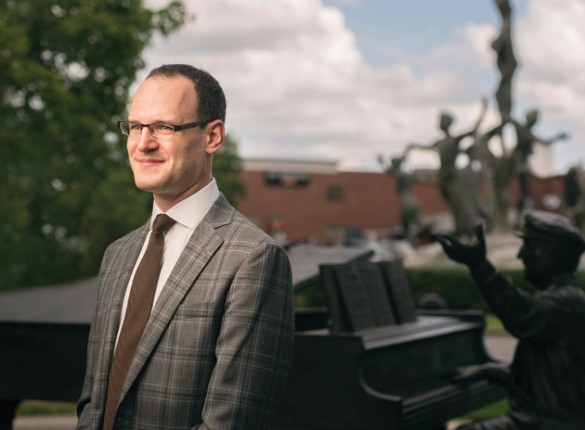 Intellectual property law is undergoing enormous shifts, with the creative community and attorneys striving to catch up to the digital revolution.
"One of the fun things for me is that you have a technological reality that is shifting much more quickly than all the (law) text that's out there," said Joseph Fishman, a new assistant professor of law at Vanderbilt Law School. "It keeps things exciting and fresh."
Intellectual property is work resulting from creativity—inventions, literary or artistic work, designs, symbols and more—and involves patents and copyrights. Fishman left Harvard University to join Vanderbilt, where he will teach a copyright law class in the fall and the Copyright and the Music Industry seminar in the spring.
"Joe is a perfect fit for Vanderbilt," said Daniel Gervais, professor of law and director of the Vanderbilt Intellectual Property Program. "His scholarship provides a much-needed fresh perspective on copyright. It will complement our Intellectual Property Program, ongoing interdisciplinary research at Vanderbilt, and work supported by the top-ranked Journal of Entertainment & Technology Law. His work will mesh very well with the interests of Nashville's legal community, the music industry and booming film and television production."
A Boston native, Fishman grew up taking piano lessons, and his first ambition was to be a film composer. He studied musicology in college but stopped short of earning his Ph.D.
"[rquote]I took a step back and realized that a lot of what I imagined myself doing was what a lawyer does," he said.[/rquote] "It was thoroughly researching something, standing in front of a group and making an argument, and trying to persuade them of something."
That led him to Harvard Law School, where he integrated his interest in music by specializing in intellectual property and "came full circle back around to the idea of being a professor—not in musicology but in law," he said.
Fishman finds his move to Nashville and Vanderbilt tremendously exciting.
"When I look around the country at the real intellectual property powerhouses, there's a tremendous amount of synergy between the faculty of the institutions and the broader geographic and business context in which they're embedded, whether it's New York or Silicon Valley," he said.
"Being here, the music connection is obvious," he said. "But with the growing amount of information technology innovation that's going on here, I think there's tremendous opportunity for further developing a similar school-and-city synergy right here in Nashville."
View the complete list of new university faculty for 2015-16.
View the complete list of new medical faculty for 2015.