Media Inquiries
Latest Stories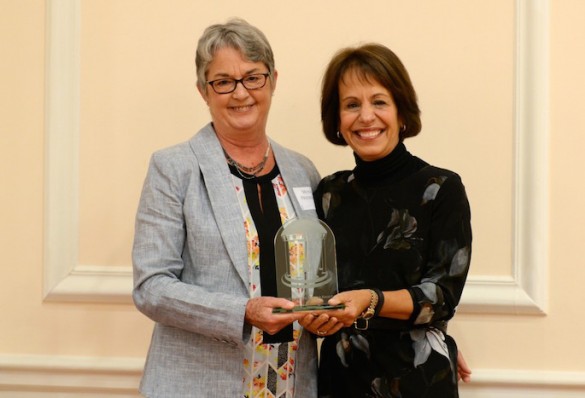 Mona Carol Frederick, a passionate advocate for humanistic research and teaching, especially in the digital humanities, has been named a 2015 Distinguished Alumna of the University of North Carolina, Chapel Hill.
Frederick has played an important role at the Robert Penn Warren Center for the Humanities, where she is executive director, since its founding in 1988.
The award was established to recognize alumni who have made outstanding contributions to humanity. Frederick was honored by her alma mater during its University Day ceremonies Oct. 12.
Frederick spearheaded Vanderbilt's successful efforts to build a state-of-the-art digital archive of writer Robert Penn Warren's audio recordings with 1960s U.S. civil rights leaders and others who participated in the movement. Warren was a 1925 summa cum laude graduate of Vanderbilt.
Warren's recordings were made in conjunction with his book Who Speaks for the Negro? It was first published in 1965. During Frederick's extensive research, she discovered some of Warren's recordings in the Yale and University of Kentucky archives.
"[rquote]Through the years, Mona Frederick has been a treasured colleague who is incredibly modest about her achievements and innovations at the Warren Center[/rquote]," said Karen Campbell, senior associate dean for undergraduate education in the College of Arts and Science and associate professor of sociology. "The announcement last summer that Yale University Press would re-issue Who Speaks for the Negro? was a strong impetus to nominate Mona for this well-deserved honor."
The Who Speaks for the Negro? digital archive, which is housed at Vanderbilt, includes not only the audio, but also some 4,000 pages of searchable interview transcripts and photographs.
Edward Friedman, Gertrude Conaway Professor of Spanish and director of the Robert Penn Warren Center for the Humanities, said it is a tremendous honor to work with Frederick. "Mona's positive spirit, her dedication to the humanities and to humanitarian causes, her range of knowledge, and her powerful memory are always on display," he said. "Thanks in great part to Mona's efforts, the center has become a place for intellectual exchange and goodwill. Her contributions to Vanderbilt are, in a word, enormous."
Recently, Frederick helped to develop the Mellon Partners for Humanities Education initiative, which will provide specialized training for new Vanderbilt doctoral students to prepare them for teaching at liberal arts colleges and historically black colleges and universities.
Frederick earned her undergraduate degree from UNC at Chapel Hill in 1976.