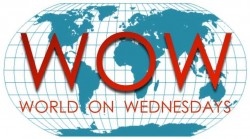 International Student and Scholar Services invites you to World on Wednesdays, where the Vanderbilt community engages in presentations, informal conversations and topical lectures on global issues.
Topic: "Street Harassment: Utilizing Community-Based Interventions"
Street harassment is sexual harassment that occurs in public spaces. This type of harassment happens all over the world and is commonly experienced by women, gender nonconforming people, and/or LGBT-identified people. Globally, communities are finding ways to combat negative behaviors that have been normalized for so long. Community-driven solutions to fight street harassment are being enacted, and cultures across the globe are shifting to create safe public spaces. How do we use strategies from other communities to fight street harassment where we are? Sirajah Raheem, from Vanderbilt's Project Safe, will present on this topic.
When: Wednesday, Oct. 21
Time: Noon–1 p.m.
Where: Student Life Center, lower level rooms 1 and 2
Questions: Contact derrick.m.stevens@vanderbilt.edu or isss@vanderbilt.edu.