Vanderbilt recycling up 430 percent since 2007
Oct. 13, 2015, 10:24 AM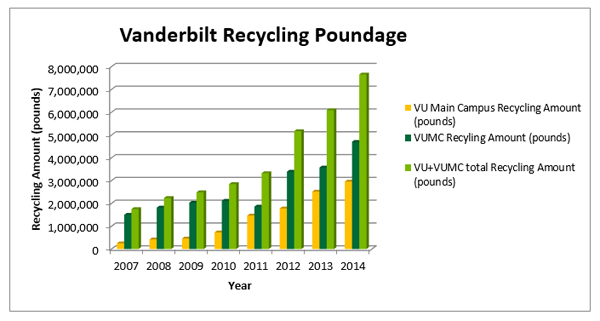 Vanderbilt has once again improved its recycling efforts on campus over the previous year. Recycling increased by 25 percent from 2013 to 2014 and now totals 7.4 million pounds of materials—the same weight as 10 fully loaded Boeing 747s. Since 2007, Vanderbilt has increased its recycling by more than 430 percent.
In 2014, Vanderbilt recycled enough cardboard, plastic, scrap metal, aluminum, glass, bulbs, electronics and ink/toner cartridges to conserve the equivalent of the following natural resources:
13,000 cubic yards of landfill air space, equal to the space inside 89 semi-trailers;
16 million kilowatt hours of electricity, enough to power 1,300 homes for a year;
7,500 barrels of oil, enough to produce 143,000 gallons of gasoline;
12,000 metric tons (MTCO2E) of greenhouse gas emissions; and
22 million gallons of water, which would fill 33 Olympic-sized swimming pools.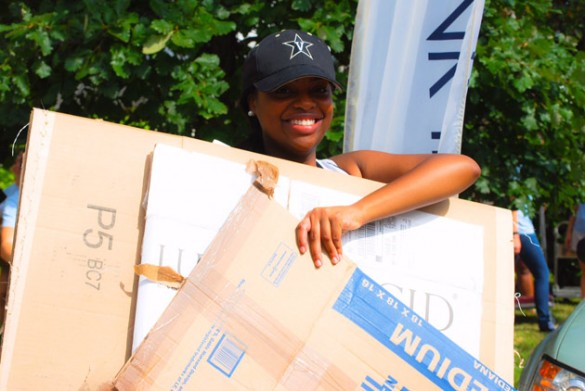 In addition to everyday recycling, Vanderbilt also hosts several special recycling events throughout the year. During Move-In, special efforts are made to recycle cardboard and other packing materials that students bring to campus. In 2015, 38.7 tons of cardboard were recycled—a 4 percent increase over last year and a 476 percent increase since 2007. The more than 77,000 pounds collected this year average to more than 11 pounds for each undergraduate student at Vanderbilt.
The collaborative efforts of Cardboard Crew volunteers, Students Promoting Environmental Awareness and Responsibility (SPEAR), the Plant Operations Grounds Department, and the Sustainability and Environmental Management Office (SEMO) each year demonstrate a commitment to environmentally responsible practices and to helping make Vanderbilt a more sustainable enterprise.
Vanderbilt made several other improvements that increased recycling on campus, including:
Implementing a campus recycling program in MRBIII and Learned Lab, increasing overall recycling container capacity in these buildings by nearly 300 percent;
Expanding glass recycling across campus, increasing the number of glass recycling locations to nine;
Donating 70,000 pounds, or five dump truck loads, of wood chips from downed tree limbs and debris on campus to Radnor Lake State Park for use on walking paths; and
Producing and reusing 194,000 pounds of landscape waste compost on campus.
For more information about Vanderbilt's recycling program, visit the SustainVU website, contact recycle@vanderbilt.edu or call (615) 343-2784.
Contact:  Sustainability and Environmental Management Office, (615) 343-2784
recycle@vanderbilt.edu