[vustarinfo]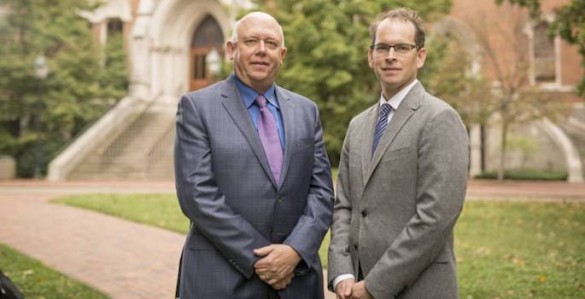 As new Mayor Megan Barry settles into office, a commanding 72 percent of Nashville residents think the city is headed in the right direction. Millennials are the most optimistic but the positive feelings stretch across income levels, race and age categories.
In a new poll from Vanderbilt University, Nashville residents also expressed a strong desire to invest in social services, with 75 percent believing the Metro Nashville government should increase spending on social programs such as education and affordable housing. Sixteen percent want to spend less on social programs.
The Vanderbilt Poll-Nashville suggests that Barry and the Metro Council will face challenging budget priority decisions, particularly balancing the public's desire to continue economic growth with a call for expanding social services.
"Mayor Barry takes office as a massively popular mayor, Karl Dean, steps away," said John Geer, Gertrude Conaway Vanderbilt Professor of Political Science and co-director of the Vanderbilt Poll. "How she balances the continued demands to maintain Nashville's economic growth with the public's clear mandate to expand social services will define her legacy."
The Vanderbilt Poll methodology
The Center for the Study of Democratic Institutions (CSDI) launched the Vanderbilt Poll to provide a non-partisan and scientifically based reading of public opinion within the state of Tennessee and the city of Nashville. The Vanderbilt Poll traditionally conducts surveys at least twice a year, prior to the start of the state legislative session and at its conclusion. This is the first survey of Metro Nashville.
"[rquote]Our focus in all our polls is to uncover what citizens think about important public policy issues and to make our findings available to citizens, policy-makers and scholars[/rquote]," explained Joshua Clinton, Abby and Jon Winkelried Professor of Political Science and the poll co-director. "With Nashville experiencing a leadership change at both the mayoral and council level, this is a perfect time to begin an annual Nashville survey that helps provide insight into the public's priorities."
In order to better capture Nashville's diverse population, a professional translation service was utilized to translate the English language questionnaire into Spanish. All respondents had the option to be interviewed in either English or Spanish.  For the first time, members of the Community Advisory Board of the Vanderbilt Center for Nashville Studies provided counsel as plans for the Vanderbilt Poll-Nashville took shape, and they contributed to the questionnaire.
The poll went into the field Sept. 15, immediately after the electoral run-off was decided, and was completed on Sept. 27. Princeton Survey Research Associates International carried out the polling on behalf of the Center for the Study of Democratic Institutions at Vanderbilt University. A thousand Nashville residents, contacted by both landlines and cell phones, participated. The margin of error is plus or minus 3.8 percentage points. The entire Vanderbilt Poll-Nashville can be accessed at the website of the Center for the Study of Democratic Institutions.
Public approval is high

City officials and institutions are riding impressive approval ratings as Barry takes office. Most popular of all is former mayor Karl Dean, who enjoys 66 percent approval ratings and only 18 percent disapproval. Barry starts out with a solid 41 percent approval rating and just 12 percent disapproval. The Metro Council has 58 percent approval, and the Metro School Board has 43 percent approval and 37 percent disapproval.
"Based on Karl Dean's popularity, the numbers of people who think the city is on the right track and the sense of shared priorities, it's clear that people are pretty satisfied with the direction of the city," Geer said.
Race not an issue, but income is

"[lquote]We found it a bit of a surprise, though, that the differences among people in Nashville tend to play out in terms of income level rather than race[/lquote]," Geer said.
For instance, 88 percent of those making $100,000 or more per year believe the building of a more than $600 million, 350,000-foot convention center downtown was a good move. That number drops more than half to 42 percent for households with incomes from $75,000 to $100,000, and a majority of those who make less than $45,000 a year think the money should have been put toward improving other parts of the city.
Asked about the availability of healthy, affordable food close to their neighborhoods, 75 percent of those who make more than $100,000 per year said it wasn't a problem. At the under $30,000 and $15,000 per year levels, that number shrank to the high 40s.
Sixty-five percent of households thought finding housing in Nashville when making less than $30,000 a year was very difficult, and 28 percent said it was somewhat difficult. When asked about the availability of housing for those making between $40,000 to $60,000 a year, 40 percent said finding affordable housing was very difficult and 43 percent said it was somewhat difficult.
Education is top priority across the board

Parents with children in public pre-schools, kindergartens and elementary schools thought their children were in good hands, grading the schools 3.8 on a 5-point scale. For public junior high and high schools, satisfaction dropped to 3.3.
A solid majority, 71 percent, of parents with children in public school, support the opening of more charter schools in Nashville.
The most important priority of the city should be improving public education, according to 84 percent of those polled. Whites, blacks and Hispanics all agreed that it should be the No. 1 priority, with blacks designating it the most urgent at 91 percent.
Reducing crime was the second-highest priority at 76 percent, followed by ensuring the city's long-term financial health (71 percent), helping the poor (69 percent) and easing traffic congestion (65 percent).
When it comes to giving tax breaks, 73 percent of Nashville residents said they were open to arts organizations such as the Nashville Symphony receiving help, and 65 percent were satisfied if manufacturing companies such as Bridgestone Americas received incentives in the form of tax breaks to bring jobs to the city. Residents were less sanguine about giving such allowances to sports teams and entertainment productions, with 51 percent opposing tax breaks for teams such as the Tennessee Titans, versus the 47 percent who approve of them.
The Center for the Study of Democratic Institutions aims to foster an engaging intellectual environment to explore how political institutions shape political debate, ameliorate conflicts and influence public policy. Since 2011, the Vanderbilt Poll has surveyed nearly 15,000 Tennesseans and all poll results are available at www.vu.edu/poll.