Media Inquiries
Latest Stories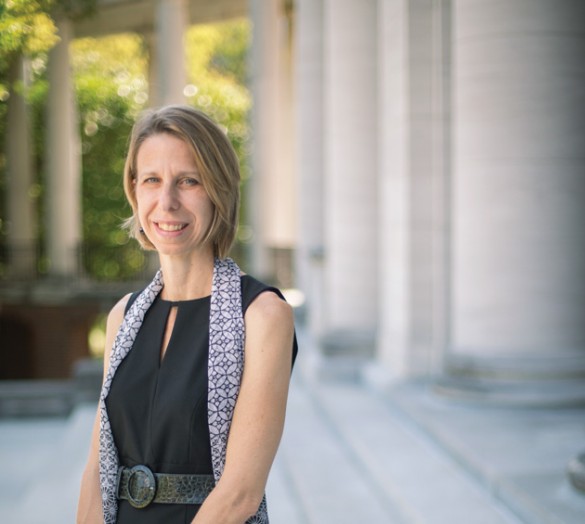 Carolyn Heinrich believes that tackling the world's most complex problems often requires an interdisciplinary approach.
Take, for example, a recent five-year research project looking at poverty reduction programs in South Africa in which she collaborated with experts based in South Africa, the United States and the United Kingdom. While Heinrich was focused on cash transfer and educational interventions to help move people out of poverty, others on the team provided valuable context on South Africa's complicated social and political history.
"If we really want to understand how to make our programs more effective—how to make education more effective, how to get more people employed—we have to consider the institutional underpinnings of an issue," she said. "[rquote]We can examine the issue through a very narrow lens, but if we want to solve the problem, we need to work in an interdisciplinary way."[/rquote]
Heinrich, professor of public policy and education in Peabody College's Department of Leadership, Policy and Organizations, has broad experience working with teams on a variety of issues. Her research focuses on education, labor force development, social welfare policy, program evaluation, and public and performance management.
Before coming to Vanderbilt, she served as director of the Center for Health and Social Policy at the Lyndon B. Johnson School of Public Affairs at the University of Texas at Austin. Prior to that, she was director of the La Follette School of Public Affairs at the University of Wisconsin at Madison. Heinrich earned her M.A. and Ph.D. degrees from the University of Chicago. At Vanderbilt, she has a secondary appointment as professor of economics in the College of Arts and Science.
She works directly with governments at all levels, including with the federal government on evaluations of workforce development programs; with states on their social welfare and child support programs; and with school districts in the evaluation of educational interventions. She also collaborates regularly with nongovernmental organizations, such as the World Bank, UNICEF and others, on research to improve the effectiveness of economic and social investments in middle-income and developing countries.
For nearly a decade, Heinrich has worked with large public school districts in Milwaukee, Dallas, Chicago, Minneapolis and Los Angeles, where 90 percent or more of the students are considered low-income and educational achievement is below average. She hopes to expand this research at Vanderbilt.
"One of the challenges we face is that these districts are constantly undergoing organizational change," she said. Heinrich's goal is to develop partnerships within schools, determine which interventions are working, and implement them as quickly as possible.
"For children in primary school, we can't wait six years for a reform to work. We want them to be reading better next semester," she said. "I enjoy meeting that challenge and working with people. We partner with many educators who want to make a difference, and that helps our research."
Another challenge Heinrich and her husband are facing is relocating from Texas to Nashville while also settling their three children in at college—the youngest is a freshman, the oldest a senior graduating in December—all at the University of Wisconsin. Heinrich is grateful that her move to Vanderbilt cuts the distance between them and other family members in her home state by half.
"There are lots of good things about transitions and lots of hard work to transitions as well," she said. "I was very thoughtful about my decision to come here, because I hope it's where I spend the rest of my career."
View the complete list of new university faculty for 2015-16.
View the complete list of new medical faculty for 2015.