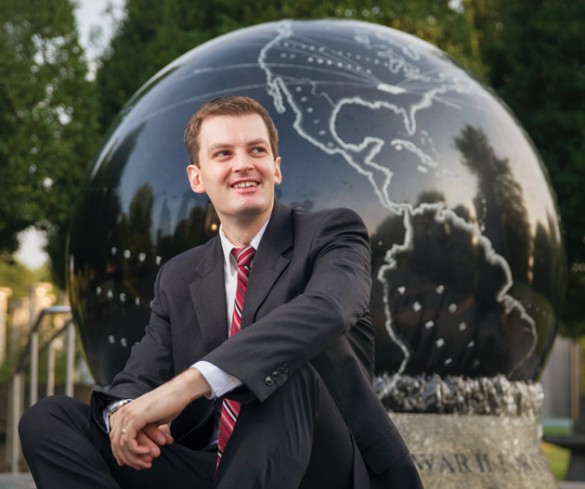 When Benjamin Munyan left his hometown of Alexandria, Virginia, to pursue an undergraduate degree at Arizona State University, it wasn't because he had any particular attachment to the Southwest. Rather, his mentors at the George Mason University lab where he worked during high school thought he'd enjoy getting involved in ASU's groundbreaking research in chaos theory.
A math prodigy who won fourth place in the 2003 Intel International Science and Engineering Fair—which earned him $1,000 and a minor star named after him—Munyan originally wanted to study biochemistry. Shortly after starting college, however, he read Yale historian Paul Kennedy's seminal book The Rise and Fall of the Great Powers and gained a better understanding of how global finance impacts the world. He soon switched majors to mathematics and economics.
Today Munyan, who joined Vanderbilt's Owen Graduate School of Management as an assistant professor of finance after completing his Ph.D. this past spring at the University of Maryland, can be found in his office writing computer code mapping U.S. Treasury data to bank and investor activity.
"Ever since coming to Owen, I look out the window sometimes and think to myself, 'Is this real?'" he said. "[lquote]The members of Vanderbilt's finance faculty are very well-known in the field, and it's remarkable to be a part of this group."[/lquote]
In graduate school, Munyan took note of the work being done by Craig Lewis, Madison S. Wigginton Professor of Finance at the Owen School, who was then serving as the chief economist at the U.S. Securities and Exchange Commission. One of the divisions that Lewis directed drew on academic research to detect hidden risks in the global financial system. That work fell in line with Munyan's own research analyzing European banks' efforts to hide as much as $170 billion in overnight-lending assets each quarter to get around stringent capital requirements.
A specialist in banking regulation and the growing field of shadow banking—an area where financial intermediaries engage in lending practices that fall outside the scope of regulators—Munyan says unknown risks in credit markets could cause problems similar to those experienced in 2008. "It's important for researchers and policymakers to be able to identify and manage the risks that could spread across the entire financial system before they create a crisis," he said.
Beyond his work in financial markets—the global economy's "plumbing," as he calls it—Munyan is also a history buff who recently took up woodworking. "It's one of those things," he said, "where you can zone out and think about a problem."
View the complete list of new university faculty for 2015-16.
View the complete list of new medical faculty for 2015.