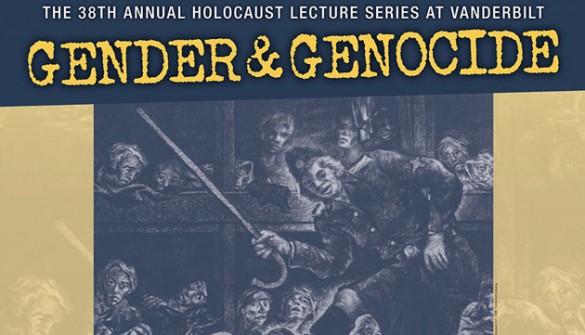 Vanderbilt University's annual Holocaust Lecture Series this year focuses on the gender dynamics among perpetrators, victims, bystanders and witnesses.
Now in its 38th year, the series, which has events scheduled throughout October and the first week of November, is the longest-running program of its kind held at U.S. universities. All events are free and open to the public.
Series events include:
Monday, Oct. 12, 7 p.m.
Lecture: "Hitler's Furies: German Women in the Nazi Killing Fields"
Location: Wilson Hall, Room 126
Wendy Lower, Roth Professor of History and Roberts Fellow at Claremont McKenna College, will give a lecture based on her research of women who worked as part of the Nazi regime. A New York Times reviewer noted about Lower's work: "Earlier books about the Holocaust have offered up poster girls of brutality and atrocity … like Ilse Koch, the so-called Bitch of Buchenwald … Ms. Lower's … insight is to track more mundane lives and to argue for a vastly wider complicity. She follows more than a dozen German women … who stand in for an estimated 500,000 German women who went into the occupied East and thus undeniably stood … in the killing fields."
Wednesday, Oct. 21, 7 p.m.
Film: Ida (Poland, 2013)
Location: Sarratt Cinema
Winner of the 2015 Academy Award for Best Foreign Language Film, Ida is a Polish feature film directed by Pawel Pawlikowski. Set in Poland in 1962, it is about a young woman on the verge of taking vows as a Catholic nun. Orphaned as an infant during the German occupation of World War II, she must now meet her aunt, a former Communist state prosecutor and only surviving relative, who reveals to her that her parents were Jewish. The two women return to Ida's rural birthplace to learn the wartime fate of her family. New York Times film critic A.O. Scott said of Ida, "One of the finest European films in recent memory. It haunted me. … Ida is as compact and precise as a novella, a sequence of short, emphatic scenes that reveal the essence of the characters without simplifying them."
Tuesday, Oct. 27, 7 p.m.
Lecture: Inge Auerbacher, a child survivor of the Holocaust
Location: Buttrick Hall, Room 101
Auerbacher, who was born in Germany in 1935, spent three years, between the ages of 7 and 10, in the Terezin (Theresienstadt) concentration camp in Czechoslovakia. In her lecture, she will describe her memories of life before World War II in the small village of Kippenheim where she grew up; her family's deportation to Terezin in 1942; and the ordeal of survival in a camp where starvation, disease and transportation to the death camps were among the salient features of everyday life. Auerbacher has lectured and written about her Holocaust experiences since 1981. She has been awarded the Ellis Island Medal of Honor for her work against racism and bigotry, and the Merit of Educational Distinction by the International Center for Holocaust Studies of the B'nai Brith Anti-Defamation League.
Tuesday, Nov.3, 7 p.m.
Panel Discussion: Genocide and Sexual Violence
Location: Commons Center, Multipurpose Room 235/237
Faculty members from a number of universities will discuss the recurrent role sexual violence has played in genocidal campaigns. The panelists include:
Sonja Hedgepeth, professor of German at Middle Tennessee State University
Elisa von Joeden-Forgey, assistant professor in Holocaust and genocide studies at Stockton University
Jocelyn Kelly, director of the Women in War Program for Harvard University's Humanitarian Initiative
Edward Kissi, associate professor of Africana studies at the University of South Florida
Moderator: Yolanda Redero, Vanderbilt assistant clinical professor of law and director of Vanderbilt's Family Law and Domestic Violence Clinic