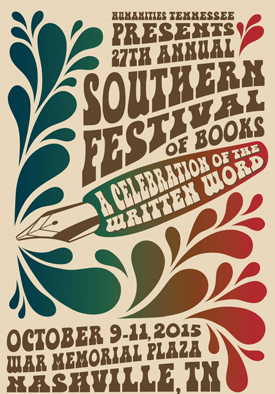 The 27th annual Southern Festival of Books: A Celebration of the Written Word takes place Oct. 9-11 at Legislative Plaza and the downtown Nashville Public Library. The free event brings together acclaimed writers, book lovers and other interested persons for three days of free readings, panel discussions and book signings.
Among the participating Vanderbilt faculty, staff and alumni are:
Lorraine Lopez, associate professor of English and author of The Darling;
Alice Randall, writer-in-residence, faculty head of Stambaugh House and co-author of Soul Food Love: Healthy Recipes Inspired by One Hundred Years of Cooking in a Black Family;
Debra Coleman Jeter, an associate professor of accounting at the Owen Graduate School of Management who also writes fiction and nonfiction. Her books include the novel The Ticket.
Nancy Reisman, associate professor of English and author of Trompe L'Oeil;
Cecilia Tichi, Gertrude Conaway Vanderbilt Professor of English and author of Jack London: A Writer's Fight for a Better America;
Jason Miller, IRIS Center team member at Peabody College who is a novelist;
Bill Brown, poet and former Vanderbilt lecturer who earned a graduate degree in English from Peabody College;
Frye Gaillard, author and writer-in-residence at the University of South Alabama who earned his bachelor's degree from the College of Arts and Science in 1968. His books include Journey to the Wilderness: War, Memory and a Southern Family's Civil War Letters.
In addition, legendary songwriter and producer Bobby Braddock will discuss Bobby Braddock: A Life on Nashville's Music Row, published by Vanderbilt University Press. See a list of participating authors for 2015.
The Robert Penn Warren Center for the Humanities is pleased to continue its partnership with Humanities Tennessee by hosting a themed track of sessions called "Understanding Islam" that is related to the topic the RPW Center's Faculty Fellows are examining for the year, "When the Fringe Dwarfs the Center: Vernacular Islam beyond the Arab World."
The 2015 Southern Festival of Books runs from from noon to 5 p.m. on Friday, from 10 a.m. to 6 p.m. on Saturday, and from noon to 5 p.m. on Sunday. For more information, visit Humanities Tennessee.