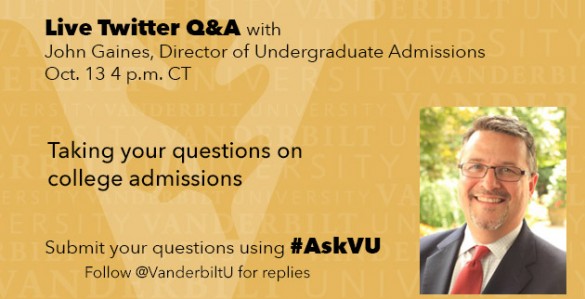 Vanderbilt University will host a live Twitter question-and-answer session about the college admissions process on Tuesday, Oct. 13, featuring John Gaines, director of Vanderbilt's Office of Undergraduate Admissions.
With the college admissions season in full swing, Gaines and a team of counselors from OUA will be available to answer questions from high school students, parents, guidance counselors and others interested in the process. The session is not intended to be Vanderbilt-specific; questions about higher education, applications, reference letters, the selection process and other general topics are welcome.
There will be an additional Twitter Q&A focusing on financial aid on Oct. 20 featuring Brent Tener, director of the Office of Student Financial Aid and Scholarships.
The admissions Q&A event will take place from 4 to 5 p.m. (CDT). Questions can be tweeted in advance or live during the event by using the hashtag #AskVU. The chat can be read live on Oct. 13 by following @VanderbiltU and it will be archived on the Get Social website.
This is the fourth in Vanderbilt's Twitter series #AskVU, in which Vanderbilt experts on a variety of topics are available to answer questions from the public via Vanderbilt's Twitter account.