A malnutrition project fou­­nded by Ted Fischer, professor of anthropology and director of the Center for Latin American Studies, and developed with the help of more than a dozen Vanderbilt students, entered a new phase in Guatemala City on Sept. 23 with the grand opening of a facility to mass-produce a new Ready-to-Use Supplementary Food, or RUSF, called Mani+.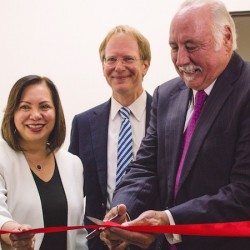 The event, which was held at the Instituto de Nutrición de Centro América y Panamá (INCAP), was attended by senior health officials from Guatemala, Honduras, Nicaragua, El Salvador, Costa Rica, Panama and the Dominican Republic, as well as prominent business and NGO leaders and representatives from the World Food Program.
Guatemala has the fourth-highest childhood malnutrition rate in the world, affecting more than half of its children. One of the most effective treatments is the RUSF—essentially a fortified nut paste that provides a vital dose of calories, protein, fat, vitamins and minerals essential to brain development in babies and toddlers. Mani+ is unique in that it is calibrated to specifically address the nutritional deficiencies seen in Central American children, and in that it is the first RUSF to be both locally produced and locally sourced, creating local jobs and supporting local farmers.
Mani+ is produced by NutriPlus, a social enterprise founded by Fischer and former Country Music Association CEO Steve Moore—founder of the Middle Tennessee-based Shalom Foundation, whose Guatemala City pediatric clinic has strong ties to Monroe Carell Jr. Children's Hospital at Vanderbilt and which houses the Vanderbilt Guatemala Research Station. In addition to producing nutritional supplements, NutriPlus' mission is to promote economic opportunities for the local farmers who produce the ingredients and to develop culturally appropriate educational materials about malnutrition and RUSFs for mothers and children.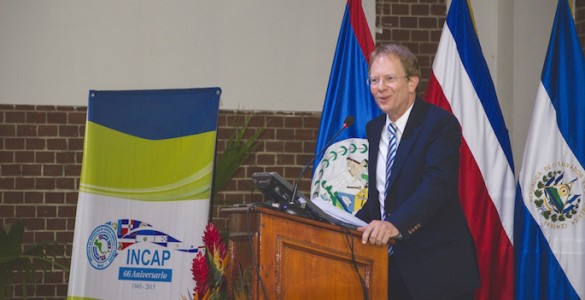 Vanderbilt students from across the university have been instrumental in the development of Mani+ from the beginning—developing financial and quality control models, an aflotoxin eradication plan for partner peanut farmers, and educational materials and packaging, as well as conducting crucial field research on peanut cultivation and Mani+ usage in the home. The paste itself was developed in partnership with food scientists at INCAP, which also donated the Mani+ production facility.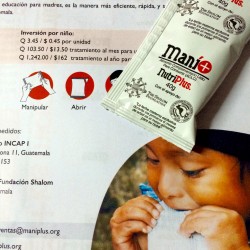 A 40-year longitudinal study by INCAP finds that the costs of childhood malnutrition are high and lasting. "There's a huge economic impact to malnutrition. Kids don't do as well in school, and we know from this data that they earn 40 percent less as adults than peers who were well-nourished," said Fischer, "So to put it into a dollar figure, in Guatemala, that's $300 million a year that malnutrition is costing this country."
Mani+ is already making a difference in Guatemala: Field tests of 1,000 children show that Mani+ is universally adopted by families and measurably reduces key symptoms of malnutrition, like stunted growth and underweight. Treated children also had lower rates of anemia and diarrhea. Once the facility reaches peak capacity, Fischer and Moore hope to produce 25 tons of Mani+ a month, reaching 25,000 children.
Bilingual information about Mani+ is available here.