Media Inquiries
Latest Stories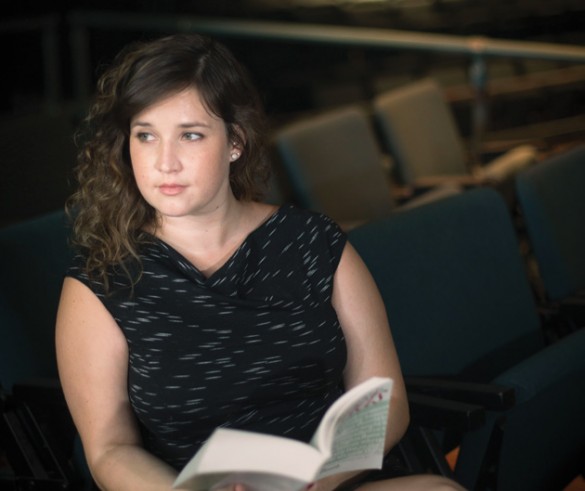 Jessie Hock knows how to make Shakespeare and Renaissance poetry relevant to Vanderbilt students.
"I always try to point out where Shakespeare's making jokes or dirty jokes," said the new assistant professor of English. "As soon as I can convince them that he's actually making the joke that they think he's making, Shakespeare gets so much closer to them."
The students learn that the Bard wrote about jealousy, anger, sex, history and politics—matters they understand. "Even though the material is from a very long time ago, the immediacy of the concerns makes the language more accessible," she said.
A native Californian, Hock received an undergraduate degree from Barnard College before earning a doctorate at the University of California–Berkeley. In between, she learned Latin and ancient Greek, moved to Spain and learned Spanish, then lived in Paris, Berlin and Siena, Italy. "I love living in different places. I like going somewhere and just staying," she said. "It's very much the same way I like literature—I just try to figure out the rhythms and world."
Hock is now figuring out the rhythm and world of Nashville and Vanderbilt. "The biggest—really the most exciting—thing is that there's a wonderful early modern faculty in the English department. Really fantastic people whose work I've read and whose work I've admired are all here in the same place," she said. "[rquote]The idea that not only would I get to teach and research what I love doing, but that there'd be a community of people who really understand what it is I'm doing—it's really exciting."[/rquote]
What Hock is doing is exploring the relationship of Renaissance love sonnets and atomist science as championed by Lucretius, who lived in the first century B.C. His beautiful epic poem "On the Nature of Things" used atomism—the concept that matter is made up of small, indivisible particles—to explain the world order. The poem surfaced again during the Renaissance and began to influence art, science, philosophy and literature.
"It's what happens when science and love poetry meet," Hock said. "You start off reading and you think, 'Well, isn't that pretty?' And then you dig deeper and you realize that the language is coming out of veins of scientific and classical thought."
When Lucretius and Renaissance writers discussed atomism, it was speculative, Hock noted. "And now we believe that atoms exist. What I find so appealing about literature is that the imagination has as much to do with reality, with the actual structures of the world, as the quantitative sciences."
View the complete list of new university faculty for 2015-16.
View the complete list of new medical faculty for 2015.