Media Inquiries
Latest Stories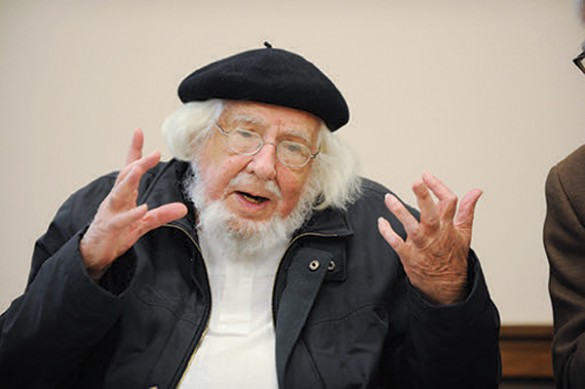 One of Latin America's greatest living poets, Father Ernesto Cardenal, will deliver a public talk on "Politics, Poetry, and the First Latin American Pope" at the John Seigenthaler First Amendment Center at Vanderbilt on Tuesday, Oct. 6, at 5:30 p.m.
Cardenal, an acclaimed Nicaraguan poet, revolutionary and liberation theologian, will discuss his latest published anthology of poems, 90 en los 90, social justice and liberation theology, and Pope Francis.
Cardenal is the author of more than 35 books. He was ordained as a Roman Catholic priest in 1965 and went on to become an important leader in the Sandinista revolution. He served as minister of culture in Nicaragua from 1979 to 1988. He founded a communal society constructed on the principles of liberation theology for artists in the Solentiname Islands located in Lake Nicaragua.
Cardenal's visit is sponsored by Vanderbilt University's Center for Latin American Studies and the Divinity School.
"Ernesto Cardenal embodies the ideal of the Third World/Global South intellectual in a distinctly religious key: a highly creative artist in his areas of work, literature and the visual arts; a determined critic in society and culture, from the local to the global; and an unflinching voice in matters religious and theological, both within his church and at large," said Fernando Segovia, Oberlin Graduate Professor of New Testament and Early Christianity at Vanderbilt.
"For Spanish Americans, poetry is a part of their daily existence, and few writers bring together everyday struggles and poetic transcendence as well as Ernesto Cardenal," said Cathy Jrade, Chancellor's Professor of Spanish. "Father Cardenal's work speaks to the many overlapping efforts made at a university like Vanderbilt to challenge assumptions, engage the mind and elevate the spirit."
This event is free and open to the public. A reception follows at 6:30 p.m.