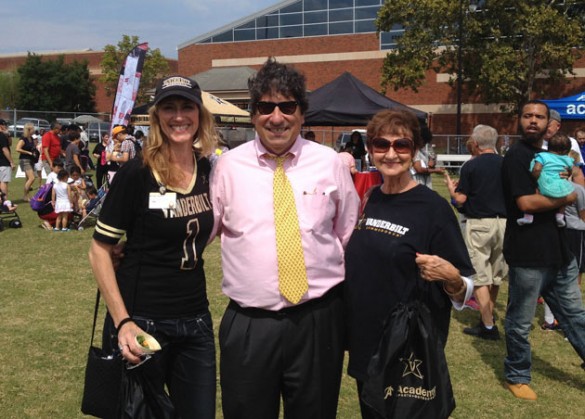 More than 3,400 employees and their family members joined the fun at the Employee Celebration tailgate and football game Sept. 19. Partygoers and football fans attended the tailgate, held at Recreation Field No. 1 at noon, and afterward at the Vanderbilt vs. Austin Peay football game, which kicked off at 3 p.m.
Famous Dave's offered tasty food, including pulled-pork sandwiches, burgers (both veggie and regular), beef hotdogs, spicy potato chips and gourmet cookies. While dining under the big tent, guests enjoyed music courtesy of DJ Louis Lee Entertainment, and eight lucky winners won door prizes, including sports binoculars and lunch gift certificates.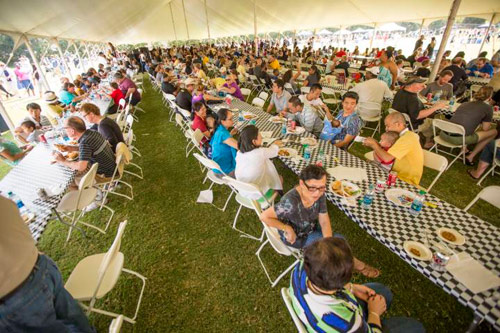 Children had a ball shooting hoops and jumping on the inflatables in the Kid Zone area and showed their gold by dressing in Commodores gear and posing for pictures in the photo tent.
A highlight of the event was a visit by the Vanderbilt Spirit of Gold Marching Band and Cheer Squad, who surprised employees by marching onto Recreation Field No. 1 and playing a couple of favorite tunes, including the Vanderbilt fight song "Dynamite" to rally fans for the game. The afternoon was capped off with a decisive win by the Commodores, who defeated Austin Peay 47–7.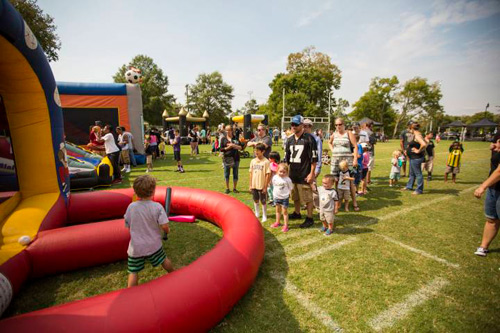 "I wanted to thank you for the fantastic Employee Celebration lunch/tailgate and the game tickets," said Brooke Austin, a department education specialist and pediatric residency program coordinator at the Monroe Carell Jr. Children's Hospital at Vanderbilt. "My husband, son and mom, who was celebrating her 77th birthday, went with me, and we had a blast. The food from Famous Dave's was terrific, and we loved your fun and friendly tailgate booths. This is such a wonderful annual event, and I can't imagine all of the hours you put in to make it happen. Thanks for all you do, and go 'Dores!"
Senior leaders took part in the celebration as well, including Chancellor Nicholas S. Zeppos, Chief Human Resources Officer Traci K. Nordberg and Vice Chancellor for Administration Eric Kopstain.
The event coincided with Vanderbilt Parents and Family Weekend and added to the festive atmosphere on and around campus.