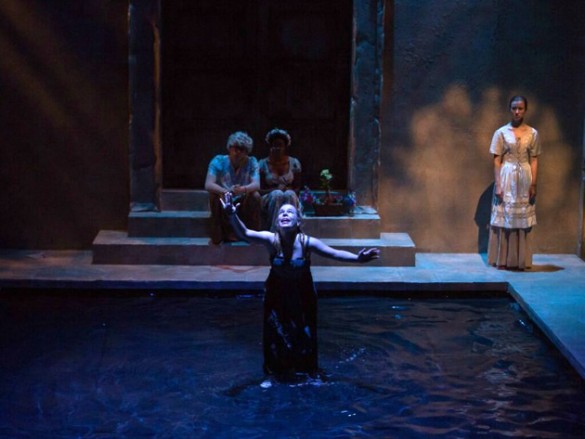 Vanderbilt University Theatre will open its 2015-16 season with Metamorphoses, a theatrical adaptation of Ovid's classical Greek stories, Oct. 2-4 and 8-10 at Neely Auditorium.
All shows begin at 8 p.m. with the exception of the Sunday, Oct. 4, performance, which is a 2 p.m. matinee.
"This Tony Award-winning play by Mary Zimmerman explores the transformative potential of human relationships, juxtaposing the ancient and the contemporary, the profound and the comic," said Leah Lowe, associate professor of theatre and director of the Vanderbilt production.
The highly visual production is set in and around a large pool of water. It is 16 feet square with approximately 2,000 gallons of water. "We are pleased to feature the work of designers Phillip Franck and Alexandra Sargent and the engineering ingenuity of technical director Matthew Stratton," said Lowe, who is also chair of the theatre department.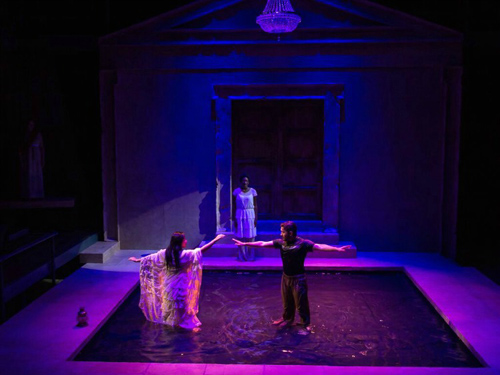 "Metamorphoses is a lovely play with stunning language, so along with the challenge of putting a pool on stage, we wanted to create a visually appealing set," Franck said. He noted that the Neely stage is raised 40 inches above the building floor, so the water in the deep end of the pool, which has a depth of 22 inches, is below the apparent stage floor level, creating an interesting visual illusion.
"The setting is a ruined temple with faux stonework that can be used as a canvas for lighting," Franck said. "Light is especially important in this play since the set doesn't change. I rely upon light to change location and mood and to expand or contract the visual image. It's all coming together in a beautiful way on the stage."
Ovid, born in 43 B.C., was a noted poet of Rome's Golden Age. Zimmerman received the 2002 Tony Award for Best Director for her adaptation of Metamorphoses, which received strong praise for its ability to bring to life the ancient Greek stories for contemporary audiences.
Cast members created a video about the Vanderbilt production. General admission for Metamorphoses is $10. Tickets are $7 for Vanderbilt graduate students and free for undergraduates with a Vanderbilt ID. Reserve tickets here or pick them up at Sarratt Box Office.