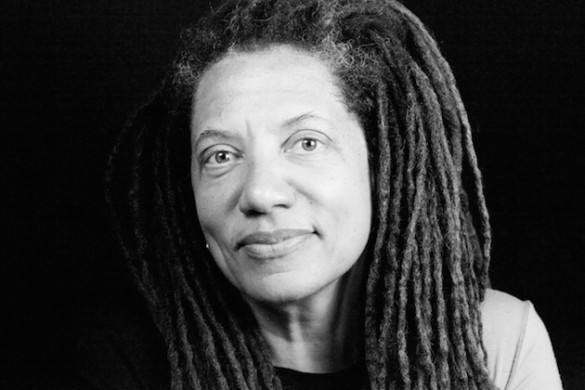 Nikky Finney, an award-winning poet and professor who grew up in the South during the 1960s and '70s civil rights struggles, will deliver the 2015 Cole Lectures at Vanderbilt Divinity School.
Finney will address "A Young Black Woman Shimmy and Shakes a Flagpole and Finally Brings the Confederate Flag Down After 100 Years: Thoughts on Climbing, Not Waiting on the Calvary, Faith and Manners in the Contemporary South." She will speak at 7 p.m. Oct. 8 in Benton Chapel and return there for a second lecture at 10 a.m. Oct. 9.
The lectures are free and open to the public. They will be video-streamed live on the Vanderbilt Live YouTube channel and posted later on the Vanderbilt Divinity YouTube playlist.
Finney's poem "A New Day Dawns" was published on the front page of The State newspaper in Columbia, South Carolina, on July 9, 2015, after South Carolina House lawmakers voted to send the governor a bill to remove the Confederate flag from the State House grounds.
She is the author of four books of poetry, including Head Off & Split, which won the National Book Award for poetry in 2011. Her other books of poetry are The World Is Round, Rice, and On Wings Made of Gauze. She also edited the collection Black Poets Lean South.
"[rquote]Nikky Finney's words in poetry and prose run along the deep streams of our cultural imaginings and realities,"[/rquote] said Emilie M. Townes, dean of the Divinity School and the E. Rhodes and Leona B. Carpenter Professor of Womanist Ethics and Society. "The timeliness of how she challenges us to engage our world in her upcoming lectures will provide breathing room for us to reflect on our times and the various roles we must all play to bring in greater spaces of justice."
The daughter of civil rights activists, Finney is a founding member of the Affrilachian Poets, a multicultural group of writers based in Lexington, Kentucky. Finney taught at the University of Kentucky from 1990 to 2013, when she returned to her home state to be the John H. Bennett Jr. Chair in Southern Letters and Literature at the University of South Carolina.
Subjects Finney has written about include the human devastation of Hurricane Katrina, civil rights pioneer Rosa Parks, and the career path of Condoleezza Rice. She has received a PEN America Open Book Award and the Benjamin Franklin Award for Poetry, among others.
Philanthropist Edmund W. Cole, president of Nashville & Chattanooga Railroad and treasurer of the Vanderbilt University Board of Trust, endowed the annual Cole Lecture Series in 1892 "… for the defense and advocacy of the Christian religion." Cole's gift provided for the first sustained lectureship in the history of Vanderbilt University.
Previous Cole Lecturers include Harry Emerson Fosdick, George Buttrick, H. Richard Niebuhr, Paul Tillich, James Barr, Gustavo Gutierrez, James Cone, Edward Farley, Don Beisswenger, Gene TeSelle, David Buttrick, Jim Wallis, James Lawson, Elaine Pagels and Tex Sample.
For more information, email Sha'Tika Brown or call (615) 936-8453.