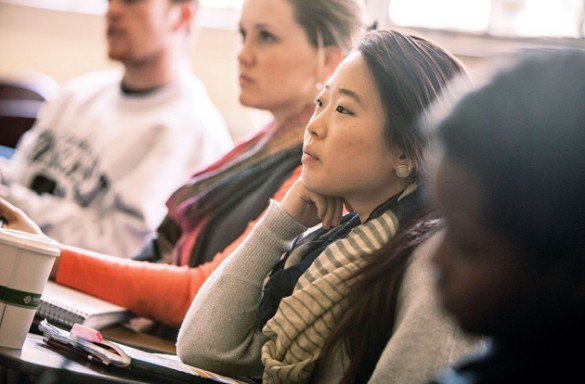 Four pilot projects launched this fall to apply successful co-curricular programming from the College Halls environment to other parts of campus. The committee responsible for the recommendations that led to these projects was the Co-Curricular Engagement External to the College Halls (CEECH) working group, which was formed by Cynthia J. Cyrus, vice provost for learning and residential affairs, in November 2014.
The CEECH task force was charged with developing proposals and ideas regarding co-curricular faculty and graduate/professional student involvement in programming aimed at residencies external to the College Halls. The focus of the committee was on student experiences in residencies such as Carmichael Towers, Branscomb Quadrangle and Highland Quad. The group's charge was directly tied to the Undergraduate Residential Experience pillar of the university's Academic Strategic Plan.
"Given the significant educational benefit provided by the existing College Halls system, we wanted to expand these advantages to the campus community as a whole. [rquote]The goal is to further enrich the relationship between the residential and academic experiences with not simply more programming, but impactful programming,"[/rquote] Cyrus said. "Students told us that they wanted direct engagement with faculty and graduate students, not just another program with a lectern."
The working group, chaired by Professor of Political Science Elizabeth Zechmeister, was comprised of individuals from all areas of the campus community, including faculty, representatives from the Office of the Dean of Students, undergraduate and graduate students, and College Halls representatives.
"A diverse and engaged set of faculty, students and professional staff comprised the CEECH working group, and that roster allowed for input from multiple different perspectives on co-curricular programming on campus," Zechmeister said. "In particular, it was vital that we had student voices at the table so that we could take stock of programming already in place and understand types of co-curricular programming that are more or less appealing from the student perspective."
The CEECH Report offered a variety of proposals to increase student engagement and enhance undergraduate residence life. After consultation with the Office of Housing and Residential Education (OHARE), leaders of Vanderbilt Student Government, Dean of the Commons Vanessa Beasley and Provost Susan Wente, four of the group's recommendations were adopted, including:
Co-curricular Fellows Program, an effort being coordinated by OHARE to develop trans-institutional, nonbuilding-based living-learning communities;
Co-curricular Supper Clubs, an initiative in partnership with VSG for dinner events focused on particular themes;
Extending Connections to First Year Houses, led by Beasley, which aims to promote connections between upperclass students and their first-year houses; and
Short-Term Faculty-in-Residence, a pilot program considering an apartment configuration for short-term residence by a faculty member.
"We believe that the four programs will deepen the portfolio of residential experiences available to students at Vanderbilt. We are eager to implement the group's recommendations, and will assess these pilot programs to determine their long-term success and impact," Cyrus said.
Work begins immediately to carry out the recommendations of the CEECH task force and will continue throughout the academic year.