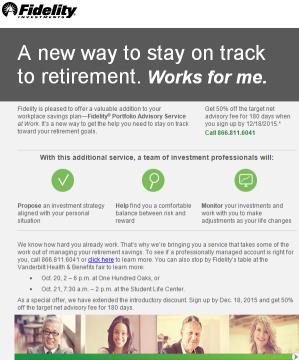 Fidelity Investments will contact Vanderbilt employees with a special offer of 50 percent off the advisory fee for its Portfolio Advisory Service at Work service if you sign up by Dec. 18. The fee discount applies to the first 180 days of service.
Key features of the optional service include:
A personalized investment strategy created by a team of investment professionals, aligned with your personal goals;
Monitoring of your portfolio, making adjustments as the market changes or as new investment options are added; and
Helping you find a comfortable balance between risk and reward.
Further information will be sent to you via email or a letter mailed to your home the week of Sept. 28. To learn more about Fidelity and its investment programs, call (866) 811-6041 or visit Fidelity NetBenefits®.