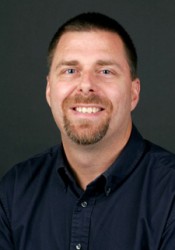 Vanderbilt University's Frank Robinson will discuss "Restoration of Relations between Cuba and the United States: A Historical Perspective" when he speaks at the Williamson County Public Library on Sept. 25.
The talk by Robinson, assistant professor of history and associate director of the Center for Latin American Studies, will be from 1 to 3 p.m. at the library.
"My presentation will provide a broad-ranging overview of the ties of singular intimacy between Cuba and the United States, including the most recent rapprochement," Robinson said.
He specializes in the history of Latin America and the Caribbean, with a focus on 20th-century political and social movements, nationalism and populism, and Caribbean Diaspora communities. His teaching interests include the rise and decline of the Iberian Atlantic empires, modern Central America, and the contemporary Caribbean.
Robinson has lived and researched for extended periods in Europe, Africa, Latin America and the Caribbean. He is a contributing author to Populism in Latin America and is currently completing a manuscript that examines 20th-century Panamanian political history.
Registration is encouraged for the monthly Vanderbilt at the Library programs, which are free and open to the public. For more information, email Lynn Maddox or call 615-322-6384.