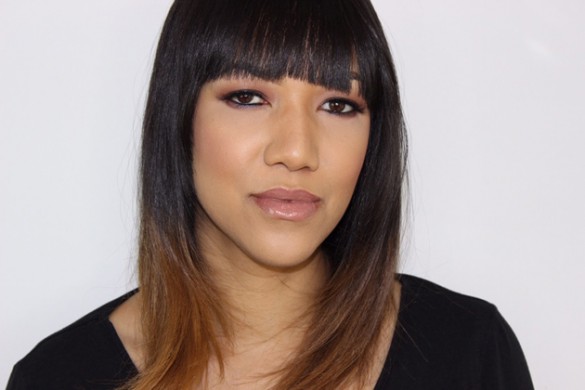 Tiana Clark, a first-year poetry student in Vanderbilt's MFA Program in Creative Writing, has won the top prize in a leading poetry journal's annual competition.
Clark won first place in the 2015 Rattle Poetry Prize competition for her poem "Equilibrium." The prize carries with it an award of $10,000. Clark's poem was selected in a blind review by the journal's editors and will appear in the winter 2015 issue.
"[rquote]Tiana Clark's accomplishment announces her gifts as a poet to a national audience,"[/rquote] College of Arts and Science Dean Lauren Benton said. "It is also another feather in the cap of Vanderbilt's extraordinary creative writing program, which admits a small group of fiercely talented writers each year and helps them fulfill their dreams of producing powerful works of art."
Kate Daniels, professor of English and director of the MFA Program in Creative Writing, noted that Clark's poem was selected from among a record 4,022 entries received by Rattle, or roughly 15,000 poems.
"Vanderbilt's MFA Program in Creative Writing is the university's one and only graduate program in the arts," Daniels said. "Thanks to generous, full funding of all of our students provided by the College of Arts and Science, we attract the very best emerging writers of poetry and fiction.
"Tiana, who is in her first year of study, is the most recent example of our award-winning students, and her recognition is pretty spectacular—I don't think any poet ever expects to receive $10,000 for one poem," Daniels said. [lquote]"Hard working, disciplined and deeply involved in the poetry writing community both locally and nationally, Tiana is a wonderful example of the kind of writer who chooses Vanderbilt for graduate study in creative writing.[/lquote] We are so pleased for her and join in celebrating her success."
Clark is a longtime Nashville resident and active member of the city's literary scene. She is currently serving as a Commons MFA writer-in-residence for East and Memorial houses at The Martha Rivers Ingram Commons, the living-learning community for Vanderbilt undergraduate first-year students.
Clark is a graduate of Tennessee State University, where she studied Africana and women's studies. She serves as a poetry reader for the Nashville Review, an online literary arts journal, and on the board for the local nonprofit literary center The Porch Writers' Collective.
A Pushcart Prize nominee, Clark has published poems in The Raven Chronicles, Nashville Arts Magazine, Word Riot, Native Magazine, Rattle and Crab Orchard Review, and others are forthcoming in Best New Poets 2015 and The Adroit Journal.
Vanderbilt's MFA program, housed within the Department of English, has been ranked among the top 15 MFA programs in the country by Poets and Writers magazine. It ranks No. 1 for selectivity.
The prize-winning creative writing faculty includes fiction writers Tony Earley, Lorraine López, Lorrie Moore and Nancy Reisman; poets Mark Jarman, Kate Daniels, Rick Hilles, Beth Bachmann and Sandy Solomon; and nonfiction writer Peter Guralnick.