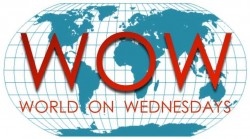 International Student and Scholar Services invites you to World on Wednesdays, where the Vanderbilt community engages in presentations, informal conversations and topical lectures on global issues.
Topic: "South Africa's Flawed Transition" presented by Clive Mentzel, director of Vanderbilt's Office of Active Citizenship and Service and senior lecturer in political science and public policy, and Tsian Beddoe. The talk will focus on the transition to democracy in post-Apartheid South Africa and whether or not this transition can be a model for other countries. Lunch will be provided.
When: Wednesday, Sept. 23
Time: Noon–1 p.m.
Where: Sarratt Student Center, Room 325/327
Questions: Contact isss@vanderbilt.edu.