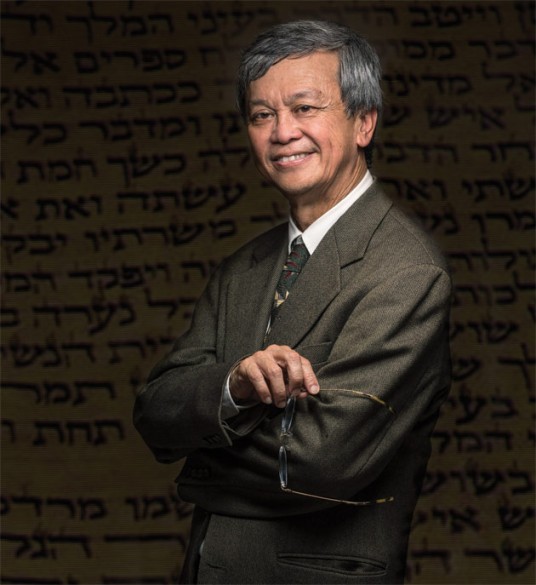 Choon-Leong Seow felt extremely homesick when he left his native Singapore with a scholarship to study at Pepperdine University in 1975. "I was the first in my family to go to college, and I was under pressure to succeed as my family had very limited funds," Seow remembers.
He majored in religion, earning a bachelor of arts. Seow then enrolled in the master of divinity program at Princeton Theological Seminary, where he graduated first in his class. "One of my papers in Old Testament was inspired by Doug Knight's research, and I also admired Jack Sasson's work," he said. Of course, Seow had no idea that he one day would follow Knight and Sasson to Vanderbilt, where they have played key roles in building a world-class Hebrew Bible program.
Seow earned his doctorate in Near Eastern languages and civilizations at Harvard University. "I had always intended to return to Singapore to teach but could not do so because there were no openings," he said. "Then a position opened at Princeton Seminary, where I had spent my most formative years." He taught there for 32 years and was named the Henry Snyder Gehman Professor of Old Testament Language and Literature. Seow noted that he still treasures returning to Asia from time to time to lecture, teach short-term courses and help direct dissertations.
Seow views his move to Vanderbilt, where he is Distinguished Professor of Hebrew Bible, as perfect timing for the increasingly interdisciplinary focus of his research. "[lquote]My work broadened considerably with my most recent book, Job 1-21. It is the first Job commentary to draw upon Jewish, Christian and Muslim interpretations along with literature and the arts," he said.[/lquote]
Seow's training in many languages, ancient and modern, equipped him to investigate Job, widely recognized as the most difficult book in the Hebrew Bible. Job 1-21 received the Biblical Archaeology Society Award for "the best book relating to the Hebrew Bible published in 2013-14."
This fall, Seow is teaching an introductory course on Hebrew Bible and an advanced Hebrew biblical research class. He hopes to have some future classes, such as Job, Literature and the Visual Arts, cross-listed in the College of Arts and Science. "In that class, we bring Shakespeare, Chaucer, Milton and modern literature into the study of Job. I will also look forward to opening some classes to undergraduates."
Seow has enjoyed getting to know Nashville with his wife, Lai-King, and his daughter, Hui-Ling. His relocation to Music City has even sparked his interest in learning to play piano and picking up his guitar.
View the complete list of new university faculty for 2015-16.
View the complete list of new medical faculty for 2015.