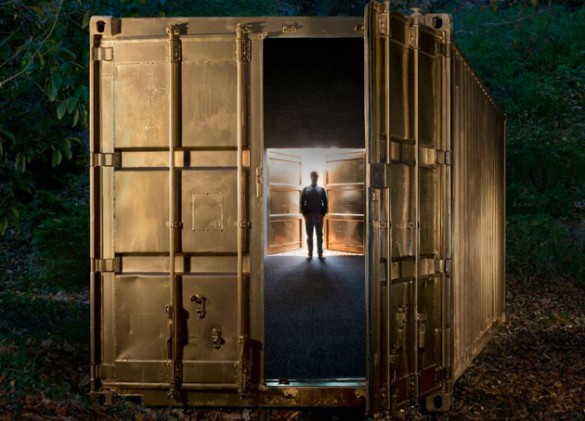 The Vanderbilt Portal to Mexico City, consisting of a custom-designed gold shipping container with immersive audio and video technology, will offer the entire Nashville community, starting Sept. 18, an opportunity to converse face to face with new acquaintances in Mexico's capital city.
Interested individuals must sign up in advance to reserve a time for a 20-minute conversation in the portal, or shipping container, which will be located on the South Lawn of The Commons Center. When you enter the portal, you will meet someone standing in another shipping container located in Mexico City. Translation will be provided if needed.
"Portals," a public art initiative offered in collaboration with Shared_Studios arts collective, will also provide educational programming for the Vanderbilt community related to artistic, academic and professional endeavors. Those interested in arranging special programs should email their request. The portal will remain at Vanderbilt through Oct. 12.
"We are excited to bring this technology that opens a window to other cultures on our campus," said Vanessa Beasley, dean of The Martha Rivers Ingram Commons at Vanderbilt and associate professor of communication studies. "In addition to holding some 'public hours' in the portal, we will utilize the technological tools and artistic design of this project for enhanced programming."
The founder of Shared_Studios is Amar C. Bakshi, a former journalist who worked at The Washington Post and CNN and is a graduate of Yale Law School. He and a team of artists, designers, engineers, technologists and digital explorers at Shared_Studios launched the project in December 2014. Vanderbilt is only the third higher education institution to have a Shared_Studios portal on its campus.
"What is especially appealing about having the portal at The Ingram Commons is that this project offers curricular as well as co-curricular learning opportunities in a variety of disciplines," Beasley said. "For example, we can use the portal for conversations about issues raised in the book that all of our first-year students were assigned to read this past summer, The Madonnas of Echo Park by Brando Skyhorse."
"The Vanderbilt Portal to Mexico City illustrates how new technologies are fostering innovation in learning, teaching and discovery," said Cynthia Cyrus, vice provost of learning and residential affairs. "Through the audio-video exchange, the portal expands the possibilities of cross-cultural engagement at Vanderbilt, promoting global citizenship through technological innovation. The ability to form meaningful connections by bridging distance and location will allow the community to explore, discover and contemplate the 'human' questions and issues that we all face. This is the kind of technological exploration – in the context of its impact on learning – that is evoked by the Academic Strategic Plan."
John Sloop, associate provost for digital learning, noted that "even prior to the strategic plan, Chancellor Zeppos convened a committee on social media in order to think broadly about how knowledge is created and disseminated on campus, but more importantly, across the globe. Projects like the portal provide a digital medium to experience and envision the world."
The Vanderbilt Portal to Mexico City has been brought to campus by The Martha Rivers Ingram Commons, Center for Latin American Studies, Curb Center for Art, Enterprise and Public Policy, Vanderbilt Fine Arts Gallery, Blair School of Music, International Legal Studies Program at Vanderbilt Law School, Department of Art, Department of History of Art and Political Science Department.