Media Inquiries
Latest Stories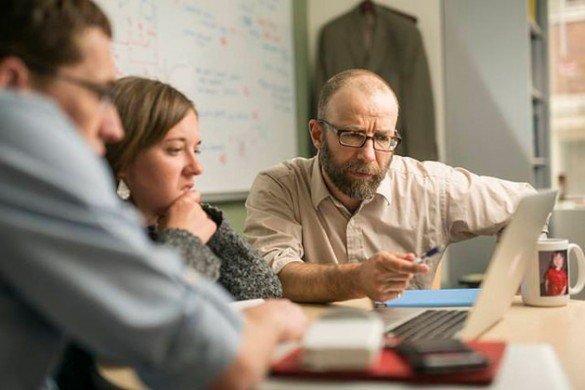 This week, Provost and Vice Chancellor for Academic Affairs Susan Wente issued a call to the Vanderbilt community to solicit ideas for Vanderbilt's 2017 Quality Enhancement Plan (QEP), which will support the Immersion Vanderbilt pillar of the Academic Strategic Plan. The QEP also will serve as a critical part of the university's accreditation reaffirmation by the Southern Association of Colleges and Schools Commission on Colleges (SACSCOC).
"The Immersion Vanderbilt initiative seeks to provide students with the mentoring and skills to identify, explore and contribute to intellectual production in rigorous and creative ways," Wente wrote in a Sept. 4 letter. "[rquote]I am writing now to solicit the input of the entire university community – students, faculty, staff, alumni and board members – to contribute additional program ideas that will add to our portfolio of Immersion Vanderbilt experiences."[/rquote]
SACSCOC requires all participating institutions to undertake a Quality Enhancement Plan, or QEP, project as part of the accreditation process every 10 years. According the SACSCOC website, "the QEP describes a carefully designed and focused course of action that addresses a well-defined topic or issue(s) related to enhancing student learning." QEPs also should derive from each institution's strategic planning process, which is one reason Immersion Vanderbilt has been chosen as the focus for the university's project.
QEP immersion experience ideas should be directly related to student learning and be academically rigorous, take place outside of the classroom, include faculty guidance and be designed to yield a tangible, measurable product.
Ideas can be submitted via the QEP website. The deadline for submissions is Oct. 15. Initial proposals can be informal and only a few sentences in length as long as they take into consideration the stated institutional guidelines, the focus on immersion, and SACSCOC requirements.
Submissions will be vetted by the Immersion Vanderbilt QEP Committee chaired by Vice Provost for Learning and Residential Affairs Cynthia Cyrus, which will select proposals to be developed further and shared with the community in early spring 2016.
The committee will then compile and evaluate feedback on the proposals and make a recommendation to Chancellor Nicholas S. Zeppos by March 2016. Implementation of the selected QEP will begin in the fall of 2017. The project will be measured and assessed over the following five years.
"Though we may only select one program for use in the QEP, we strongly believe that every idea submitted during this process has the potential to find a home within Immersion Vanderbilt and impact student learning at the university," Wente wrote.
Committee members are:
Cynthia Cyrus, vice provost for learning and residential affairs; professor of musicology; chair;
Lisa Bressman, associate dean for academic affairs, Vanderbilt Law School; David Daniels Allen Distinguished Professor of Law;
Derek Bruff, director, Vanderbilt Center for Teaching; senior lecturer, Department of Mathematics;
Roger Chalkley, senior associate dean for biomedical research, education and training, School of Medicine; professor of molecular physiology and biophysics; professor of medical education and administration;
Frank Dobson, assistant dean of students; director, Bishop Joseph Johnson Black Cultural Center; faculty head of house, Gillette House;
Daniel Fleetwood, Olin H. Landreth Professor of Engineering; chair, Department of Electrical Engineering and Computer Science; professor of electrical engineering; professor of physics;
Brian Heuser, assistant professor of the practice, Peabody College;
Richard Ianelli, senior associate director, Vanderbilt Institutional Research Group;
Rebecca Levinson, president, Graduate Student Council;
Dan Morgan, assistant dean, College of Arts and Science; senior lecturer, Department of Earth and Environmental Sciences;
Melissa Rose, associate dean for the collegiate program, Blair School of Music; associate professor of piano;
Mavis Schorn, senior associate dean for academics, School of Nursing; professor;
Lizzy Shahnasarian, student body president, Vanderbilt Student Government;
Phillis Sheppard, interim associate dean for academic affairs, Divinity School; associate professor of religion, psychology and culture;
Richard Willis, Anne Marie and Thomas B. Walker Jr. Professor of Accounting, Owen Graduate School of Management;
Melissa Wocher, chair, Strategic Plan Staff Advisory Council; and
Consuelo Wilkins, executive director, Meharry-Vanderbilt Alliance, VUMC.
Graduate student Connor Deason will support the committee's work.
Learn more about the Immersion Vanderbilt Quality Enhancement Plan >