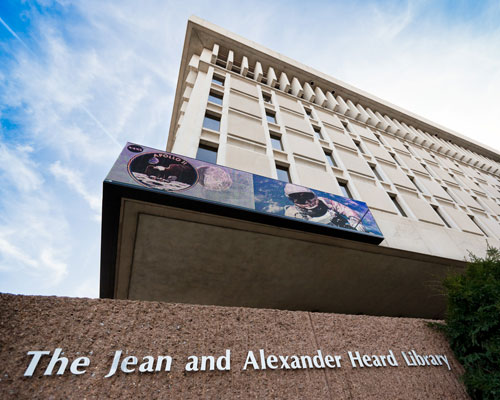 An assessment of the value the Vanderbilt community places on its libraries today and the future of what library services and resources should become are the topics of a report recently released by the Future of the Libraries Committee. The committee was charged by Provost and Vice Chancellor for Academic Affairs Susan Wente and convened by Vice Provost Cynthia Cyrus in October 2014 to develop a vision for the future direction of the Vanderbilt University library system.
The full report is available for download on the Future of the Libraries website.
"[rquote]This report tells us our libraries are deeply valued by our students, faculty and staff and are integral to our life as a university. It also identifies key areas in which the libraries must continue to evolve[/rquote] to support the collaboration and interdisciplinary problem-solving that is the foundation of our Academic Strategic Plan," Wente said. "I'm grateful to the committee members for their work and believe we have a solid foundation on which to move forward."
Two subcommittees, one comprising faculty and the other comprising library leadership and staff, gathered broad input, particularly from faculty and students, as part of their assessments. The findings and recommendations of the two subcommittees' reports were integrated to produce the report.
"This is an important document for establishing direction at Vanderbilt at a time when libraries overall are changing fundamentally in light of digital collections and concomitant shift to 'information overabundance' rather than 'scarcity,'" Cyrus said.
The committee identified several potential future services the libraries could provide as digital resources and expertise become ever more important to research and scholarship. They include:
Data manipulation and management consultation and training. The committee found that the campus community seeks support for data visualization, data curation and interactive data analysis. Library staff are poised to provide these services and to advise on best practices to organize and extract data for current and future research needs.
Scholarly presence and authors' rights. Librarians can be resources for using alternative publishing platforms, archival repositories for making their publications accessible online, and advice on how authors can retain rights to their own work.
Copyright consultation. The committee identified a need to continue to develop infrastructure to support faculty compliance with copyright policies and noted that the library and the subject liaisons could serve as front-line support for faculty dealing with intellectual property issues.
In looking at the current state, the committee found the library provides a highly valued and distinctly academic physical space and atmosphere for deep thought that supports the university's teaching and research missions in a variety of ways. These include:
Access to an evaluated mix of premium content, databases, journals, primary source material and data that support the breadth of research;
Librarians with subject and discipline expertise that provide information consultation services that help members of the Vanderbilt community identify information and data sources, as well as keep current with new research and support for cross-disciplinary teaching and research;
Library staff who support student learning and impart lifelong skills with curriculum-integrated instruction sessions and embedded educational technologies in the form of video tutorials and Web guides; and
Faculty delivery and interlibrary loan. Both are particularly valued services cited by campus faculty.
In addition to Cyrus, Camilla Benbow, Patricia and Rodes Hart Dean of Education and Human Development, and Chris Guthrie, dean of the law school, served as provost's office representatives who reviewed the work of the committee.
With the academic year underway, the library hopes to begin to implement many of the recommendations suggested in the report. For example, the library is working closely with the Center for Teaching and the Vanderbilt Institute for Digital Learning to provide the university community with resources to support educational technology initiatives. In an effort to widely advertise the available support services, representatives from the Heard Library, CFT and VIDL will be visiting with faculty members throughout the fall to discuss educational technology at Vanderbilt. These "educational technology roadshows" are also available to students, faculty and staff.
Likewise, the library is also taking steps to expand its emphasis on liaison librarians – librarians with subject and discipline expertise. Students, faculty and staff should reach out to their librarian of choice for further information about discipline-specific class-related programs or enhanced research support, particularly in the digital domain.
Faculty, students and staff are encouraged to review and submit comments on the report to viceprovostcynthiacyrus@vanderbilt.edu.