Media Inquiries
Latest Stories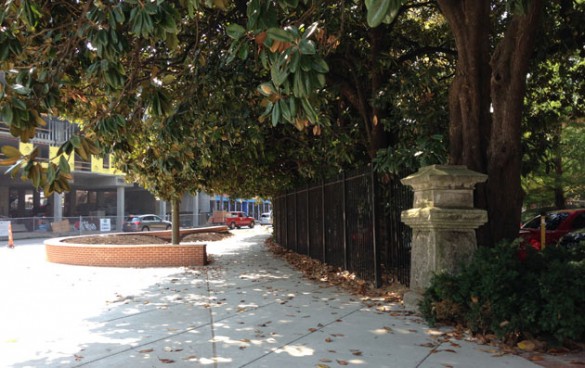 A Metro Nashville Public Works project will improve pedestrian safety and increase functionality at the intersection where 21st Avenue South meets Broadway near the entrance to Vanderbilt Law School.
Traffic lights at the redesigned intersection will be activated the week of Sept. 7, adding a pedestrian crossing signal to the busy intersection for the first time. In addition, the crosswalk and sidewalks at the intersection have been made ADA accessible.
Construction began in May to create a wide pedestrian plaza adjacent to the stone pillars of the university's historic entrance on 21st Avenue South. The plaza features low brick walls ideal for sitting and will be landscaped in the coming months, according to Rick Kirkpatrick, project manager for Metro Public Works.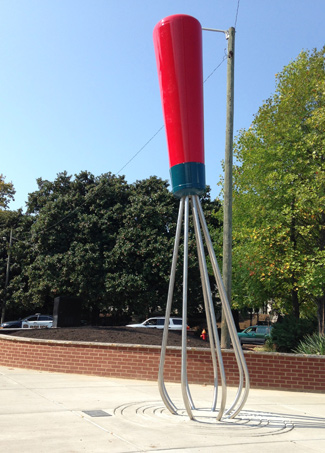 The plaza also features a 16-foot-tall metal whisk that will double as a bike rack. Titled "Good Eats!" the sculpture was designed by Memphis, Tennessee, artist Wayne Henderson and produced locally by metal fabricator Bellex of Nolensville. It is one of 17 art bike racks located throughout Nashville, with three more in the works, said Jennifer Cole, executive director of the Metro Nashville Arts Commission.
A Nashville B-cycle bike rental station will be added to the intersection in 2016, complementing the existing Vanderbilt-sponsored B-cycle station located at 21st Avenue South and Wedgewood Avenue in Hillsboro Village.
Enhancements at the 21st Avenue-Broadway intersection are among the first phase of a larger project to improve walkability and pedestrian safety in the area, Kirkpatrick said.
In mid-September, sidewalk improvements will begin on both sides of 21st Avenue South from Grand Avenue to Edgehill Avenue. In the coming months, sidewalks and the existing traffic signals at 21st and Grand as well as 21st and Scarritt Place will be rebuilt.
When construction is complete on the Aertson Midtown, the 600,000-square-foot mixed-use project currently underway at 21st and Broadway across from the Vanderbilt campus, new sidewalks will be constructed in front of the complex and final road paving in the area completed. The Aertson Midtown will be completed in phases, with some apartments and a planned hotel opening in late 2016 and the overall project expected to be complete in early 2017.