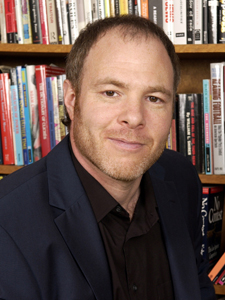 An educator, author, filmmaker and cultural theorist, Jackson Katz is internationally recognized for his groundbreaking work in the field of gender violence prevention education and critical media literacy. He will deliver a talk, "The Macho Paradox: Why Some Men Hurt and Why All Men Can Help," Thursday, Sept. 10, at 7 p.m. at Vanderbilt University's Student Life Center.
A reception will follow the event, which is free and open to the public and part of the university's Project Dialogue lecture series organized by the Office of the University Chaplain and Religious Life at Vanderbilt. Partners in the event include Vanderbilt Athletics, the Office of the Dean of Students, Margaret Cuninggim Women's Center, the Project Safe Center for Sexual Misconduct Prevention and Response, Women's and Gender Studies, The Martha Rivers Ingram Commons and the Office of Greek Life.
A co-founder of the Mentors in Violence Prevention (MVP) program at Northeastern University's Center for the Study of Sport in Society, Katz has brought his insights on issues of gender and violence to millions of college and high school students as well as professionals in education, human services, public health and law enforcement in North America and overseas.
The mixed-gender, multiracial MVP program is one of the most widely implemented and influential sexual and relationship abuse prevention programs in schools, colleges, sports culture and the military in North America. MVP introduced the "bystander" approach to the gender violence prevention field and Katz is one of the key architects of this now broadly popular approach. In 1997 Katz created and directed the first worldwide gender violence prevention program in the history of the U.S. Marine Corps. He and his colleagues have been centrally involved in the development and implementation of systemwide bystander intervention training in the U.S. Air Force and Navy.
His TED talk, "Violence against Women is a Men's Issue," has been viewed more than 2 million times. He is the author of The Macho Paradox: Why Some Men Hurt Women and How All Men Can Help, and Leading Men: Presidential Campaigns and the Politics of Manhood. He is the founder and director of MVP Strategies, which provides gender violence prevention training to institutions in the public and private sectors. Katz has a bachelor's degree in philosophy from the University of Massachusetts-Amherst, a master's degree from the Harvard Graduate School of Education, and a doctorate in cultural studies and education from UCLA.