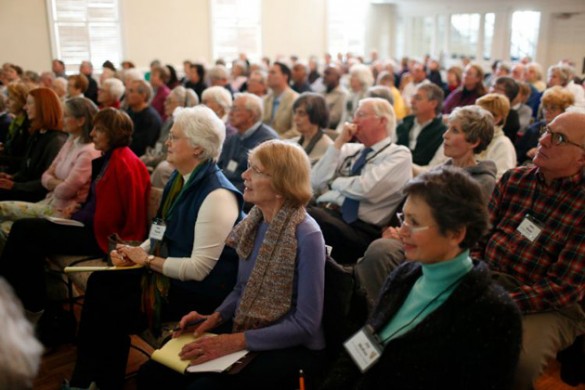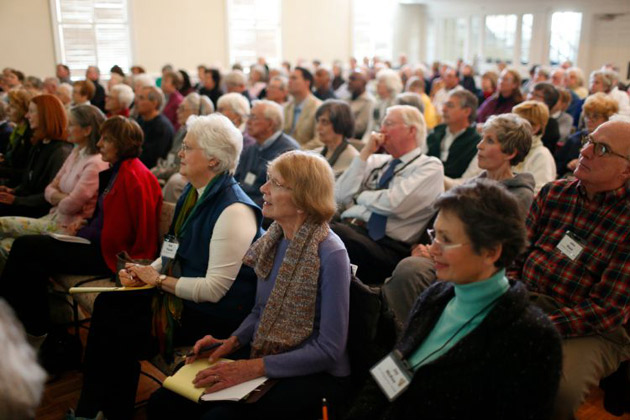 Fall term for the Osher Lifelong Learning Institute at Vanderbilt begins Oct. 4 with topics that include the impact of music on the civil rights movement, circadian rhythms and sleep, and legal and policy issues in modern warfare.
Other classes include the legacy of Nelson Mandela, how the earth works, and the significance of "hidden books" in biblical scholarship.
"We cordially invite all those 50 and older to come to our fall kickoff and cocktail reception Sept. 10 for a preview of upcoming classes and a celebration of the 20th anniversary of lifelong learning at Vanderbilt," said Norma Clippard, program director.
The kickoff, from 5 to 7 p.m. at Vanderbilt's Wilson Hall, is $20 per person. Reservations are required and complimentary parking close to Wilson Hall will be provided.
Classes generally meet on the same day of the week for six consecutive weeks. "Rhythm and Blues Tore Down The Walls of Segregation" will be offered on Mondays beginning Oct. 5 from 9:30 to 11:30 a.m. at St. George's Episcopal Church. It will be taught by Steve Buckingham, adjunct instructor in music history, and is offered in partnership with the Blair School of Music.
Two classes will be offered at The Temple on Tuesdays starting Oct. 6. "Hidden Books from the Biblical World" will be taught by James L. Crenshaw, the Robert L. Flowers Professor of Old Testament, Emeritus, at Duke University. The class meets from 9:30 to 10:45 a.m. Molly Miller, professor of earth and environmental sciences, emerita, in the College of Arts and Science, will teach "How the Earth Works and Why It Matters" from 11 a.m. to 12:15 p.m.
On Wednesdays starting Oct. 7, two classes are scheduled at The Commons Center. Michael Newton, professor of the practice of law at Vanderbilt Law School, will teach "Legal and Policy Issues in Modern Warfare" from 9:30 to 10:45 a.m. Clive Mentzel, director of the Office of Active Citizenship and Service and senior lecturer in political science, will teach "Who Was Nelson Mandela?" from 11 a.m. to 12:15 p.m.
Students taking "Intellectual Sampler" and "Our Urban Agenda" will meet on Thursdays starting Oct. 8 at The Commons Center. Vanderbilt professors of literature, music, history and science will lead individual class sessions in "Intellectual Sampler" from 9:30 to 10:45 a.m. Associate Professor of Economics Malcolm Getz will discuss issues related to urban growth and, in some cases, decline in "Our Urban Agenda," which meets from 11 a.m. to 12:15 p.m.
The Lentz Public Health Center is the location for two classes on Fridays starting Oct. 9. "The Artistic and Collaborative Process of Creating the Theatre Experience" will be taught by Alexandra Sargent Capps, senior lecturer in theatre, from 9:30 to 10:45 a.m. Four professors will team-teach "Circadian Rhythm and Sleep" from 11 a.m. to 12:15 p.m. They are Carl H. Johnson, Stevenson Professor of Biological Sciences; Beth Malow, professor of neurology and director of the Vanderbilt Sleep Disorders Center; Douglas McMahon, Stevenson Professor of Biological Sciences; and Terry Page, professor of biological sciences, emeritus.
A class fee of $80 entitles adult students to take three classes, with a $10 fee for each additional course. Special class offerings with separate fees include "English Country Dancing" taught by Susan Kevra, senior lecturer in French and American Studies; "Osher Steel Drum Band" taught by Mat Britain, adjunct instructor in music; "The Writing Life," a writing seminar taught by Victor Judge, assistant dean for academic affairs and lecturer at Vanderbilt Divinity School; and the "Osher Lifelong Learning Institute (OLLI) at the Opera."
Interested individuals can register online for classes and the kickoff event. For more information, contact Norma Clippard.