Media Inquiries
Latest Stories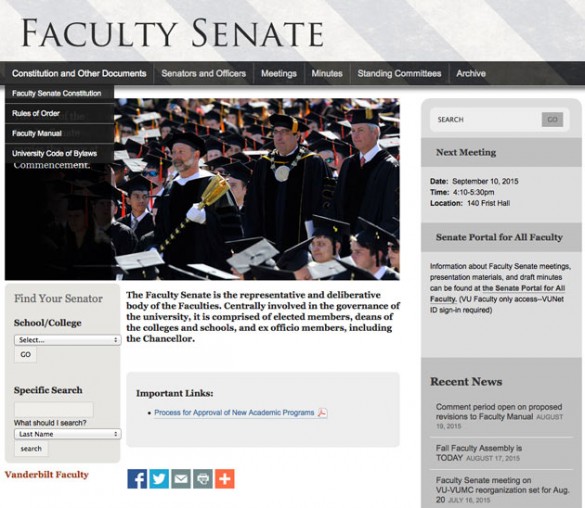 New features have been added to the Faculty Senate website, www.vanderbilt.edu/facultysenate, to encourage more feedback and communication between Vanderbilt faculty and the senate. Faculty Senate Chair Richard Willis discussed enhancements at the Fall Faculty Assembly on Aug. 27.
The new features are:
Find Your Senator
On the landing page of the senate website, faculty can type in their school or college to identify senators and access their e-mail addresses. Faculty should reach out to any senator to bring questions, concerns or comments forward.
Access the executive committee list >
Senate Portal
The Senate Portal is also on the senate's landing page. This secure site, available to all Vanderbilt faculty, contains information from senate meetings and links to faculty surveys. For example, the proposed revisions to the Faculty Manual and the survey to solicit comments on those proposed revisions are accessible through the Senate Portal. The comment period for Faculty Manual proposed revisions is open until Friday, Sept. 4.
Feedback
The Senate Portal home page contains an anonymous feedback form. Faculty can provide anonymous free-text feedback to the senate after logging in to the Senate Portal. If you want a personal response to your note, please include your e-mail address.
"The website's enhancements are designed to make it easier for faculty to provide feedback to, and partner with, the senate on important initiatives," Willis said. "Let the senate hear from you!"
University Web Communications in the Division of Public Affairs provides support for the senate website.