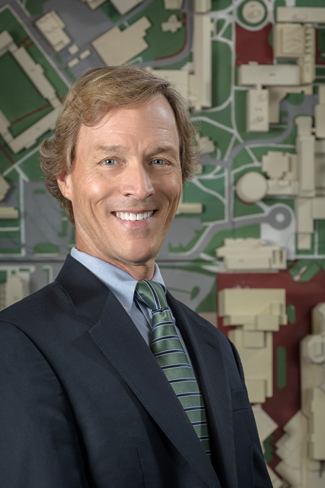 Deputy Vice Chancellor for Facilities and Environmental Affairs Judson Newbern will retire from Vanderbilt Sept. 30 after 30 years of contributing his talents to the university's physical growth while safeguarding and enhancing the campus's character.
Newbern, who holds a master's degree from Harvard, came to Vanderbilt in 1985 as associate vice chancellor for campus planning and construction. In 2005 he was promoted to his current position, which has encompassed campus planning and construction, plant operations and utility services, parking, real estate, environmental health and safety, plus the recycling and "green" initiatives.
"Nearly every aspect of the physical campus has been touched in some way in the past three decades by Judson's talent and keen sense of what is both practical and beautiful. Under Judson, new buildings have been constructed to meet the university's modern needs without sacrificing the look and feel of Vanderbilt's park-like campus," said Vice Chancellor for Administration Eric Kopstain.
In a message to his direct reports, Newbern wrote, "To have a group of talented, committed team members, and a great campus to help evolve to realize its fuller potential, have been career opportunities that I feel extremely fortunate to have had."
During his tenure, Newbern helped carry forward a billion dollars in capital projects and the accumulation of more than half of Vanderbilt's 21 million gross square feet. He also is a professor of the practice in Vanderbilt's School of Engineering's Department of Civil and Environmental Engineering.
Early initiatives included the relocation of the Commodore statue as part of a reworking of  the Kirkland Esplanade entrance and a series of brick and stone gateways along the campus perimeter. His efforts also included revitalizing the designation of the campus as an arboretum and the accumulation of much of the public sculpture collection.
In 2001, Newbern oversaw development of a 2001 master plan that led to the siting of the Martha Rivers Ingram Commons and guided the build-out of the geographic center of campus with the Student Life Center and surrounding facilities. The Engineering and Science Building now under construction infills the last major open space in that vicinity.
Newbern has also been integral to the university's resource conservation efforts with the structuring of the Sustainability and Environmental Management Office. This unit has overseen a decline of 17 percent in overall greenhouse gas emissions from the campus and medical center since 2008, despite significant growth in square footage, students, patient care and research dollars during this time. Construction has been undertaken with a focus on meeting LEED certification standards with 15 projects having been LEED-certified.
"Judson's many contributions to the function, safety and appearance of the campus are too many to list, but will have an impact for years to come," Kopstain said.
Although he is retiring from Vanderbilt, Newbern said he plans to work as an independent consultant with a strategic affiliation with the Nashville landscape architectural firm of Hodgson & Douglas.
Before coming to Vanderbilt, Newbern held positions in planning and community development at North Carolina State University, where he received a Bachelor of Environmental Design, with the state of North Carolina and in the private development sector.