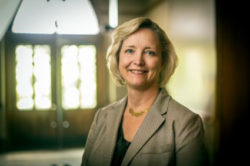 Community members interested in the workings of a topflight research university should plan to be present Wednesday, Sept. 2, when Vanderbilt Provost Susan Wente speaks at the downtown Nashville Public Library.
Wente, also professor of cell and developmental biology and vice chancellor of academic affairs at Vanderbilt, speaks at noon as part of Vanderbilt's Thinking Out of the (Lunch) Box: Conversations with a Philosophical Flavor with David Wood. Wente's talk is titled "At the Cutting Edge: Discovery and Learning in Research Universities."
As provost and vice chancellor for academic affairs at Vanderbilt, Wente is responsible for academic programs, student affairs, housing, admissions and financial aid and research.
Born in Nebraska and raised in rural Iowa, Wente earned her bachelor of science from the University of Iowa, graduating with honors and high distinction in biochemistry. She went on to the University of California–Berkeley, where she received a Ph.D. in biochemistry. She did post-doctoral work at Memorial Sloan Kettering Cancer Center in New York as well as a fellowship at Rockefeller University.
Box lunches will be available starting at 11:30 a.m. for the first 200 people to arrive. A voluntary donation of $5 is requested per lunch to help defray expenses. The lunch and program will take place in the downtown Nashville Public Library's conference center.
The Vanderbilt philosophy department is co-host of the event with the Friends of the Nashville Public Library. No reservations are necessary. Interested individuals should simply show up at the downtown Nashville Public Library at 615 Church St.
For more information, call the library at (615) 862-5800 or contact David Wood, W. Alton Jones Professor of Philosophy, professor of European studies and professor of art.