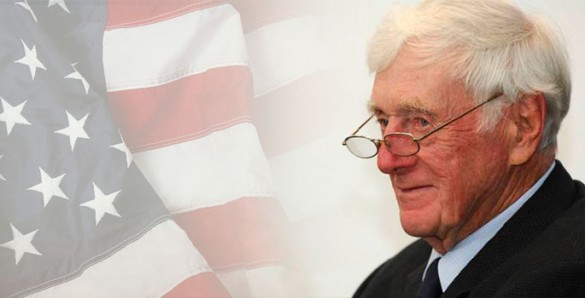 Honoring and building upon the contributions of the late John L. Seigenthaler to the civil rights movement is the goal of a new endowed chair being established at Vanderbilt University through a gift from the James Stephen Turner Family Foundation.
"[rquote]John Seigenthaler and Nashville were at the heart of the civil rights movement, and an understanding of that rich history is critical as we come together around the issues involving race that we face today,"[/rquote] Vanderbilt University Chancellor Nicholas S. Zeppos said. "I am deeply grateful to the James Stephen Turner Family Foundation for endowing this chair, which will support research and teaching in an area critical to our future as a university, as a city, and as a nation. This is one important step among many in our commitment to achieve the truly welcoming and all-embracing community for all races envisioned and fought for by John."
John L. Seigenthaler, a native Nashvillian and lifelong civil rights champion, was the former editor, publisher and chairman emeritus of The Tennessean, founding editor of USA Today, and founder of the First Amendment Center at Vanderbilt and in Washington, D.C. He died July 11, 2014, at the age of 86 after a life that saw him serve as special assistant to U.S. Attorney General Robert Kennedy; suffer a brutal beating by segregationists while attempting to aid 1960s Freedom Riders; become a founding editor of what is now one of the nation's largest newspapers; and win the respect and admiration of generations.
Under Seigenthaler's leadership as editor, The Tennessean aggressively covered desegregation and other civil rights issues at a time when most other southern newspapers ignored them. Seigenthaler launched investigative reports to cast light on these issues, including documenting the resurgence of the Ku Klux Klan, putting a reporter undercover in the Klan for 18 months and proving the innocence of Leo Frank, a Jewish man who had been lynched for the murder of a young girl in 1915. Seigenthaler's work in civil rights did not end with his newspaper retirement. At the helm of the First Amendment Center, which now resides in a building named for him, he led panels and made speeches across the nation on continuing rights issues. His advice and counsel were regularly sought by individuals and groups seeking to stop rights abuses.
"[lquote]John Seigenthaler was a friend to so many in Nashville, and inspired those who knew him to continue his commitment to civil rights and equality,"[/lquote] Jay Turner said on behalf of the Stephen Turner Family Foundation. "With its location in this city he loved and its world-class faculty and students, Vanderbilt has a unique opportunity to make meaningful contributions in the areas of diversity and inclusion. We are thrilled to partner with them on this new effort to further learn from the lessons of the past and inform the strategies of the future."
The new John L. Seigenthaler Chair in American History will support a faculty member in the College of Arts and Science and will have a focus on civil rights and the civil rights movement.
"Our family is humbled by this generous gift from the Turner family to establish this chair at Vanderbilt in my father's name," said his son, John M. Seigenthaler. "[rquote]We hope the Seigenthaler chair will help shine a spotlight on so many others who have made major contributions to the civil rights movement."[/rquote]
The faculty member holding the chair will have access to a rich array of resources about the civil rights movement, including those at the Jean and Alexander Heard Library Special Collections, the First Amendment Center at Vanderbilt and the Nashville Public Library's Civil Rights Collection.
Seigenthaler's family is in the process of transferring his papers to Special Collections, a donation Seigenthaler announced in 2004. The prized papers contain correspondence, book manuscripts and photographic material spanning Seigenthaler's life and career. They also include research materials, drafts and proofs for his book, James K. Polk, and materials from his work as chair of the panel that investigated former USA Today reporter Jack Kelley.
"Vanderbilt has made tremendous progress since John Seigenthaler and the Freedom Riders put their lives on the line in support of civil rights, but we recognize much work lies before us," Provost and Vice Chancellor for Academic Affairs Susan Wente said. "This chair and the Turner family's generosity represent tangible investments in our commitment to diversity, inclusivity and providing a welcoming, safe and supportive environment for all who come to Vanderbilt."
A national search will begin shortly for the position.