The Social Justice Program at Vanderbilt Law School has been named in honor of noted Nashville civil rights attorney George E. Barrett, who passed away in August 2014 at the age of 86. Darren Robbins, a 1993 graduate of the law school and a founding partner of Robbins Geller Rudman & Dowd LLP in San Diego, has made a gift to endow the program in Barrett's name.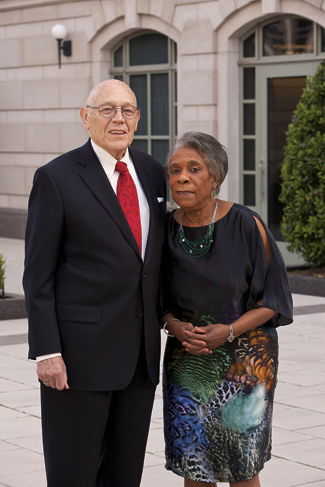 "The George Barrett Social Justice Program is designed to provide students who want to practice in the public interest with the courses, experiences and resources they need to enjoy successful careers serving the underserved," Chris Guthrie, Vanderbilt Law School dean and John Wade-Kent Syverud Professor of Law, said. "I am so grateful to Darren and so honored to be able to recognize George's tremendous legacy. This is a fitting recognition of George's lifelong dedication to the public interest."
Barrett, a 1957 Vanderbilt Law School graduate, was a partner at Barrett Johnston in Nashville, where he devoted his legal career to civil rights litigation and was known as "Citizen Barrett." In 1968 his drive for justice led him to file one of his most significant cases, Geier v. Tennessee, which resulted in the desegregation of Tennessee's state universities. Barrett and Rita Sanders Geier, who earned her law degree in 1970, developed a novel legal theory: Under Title VI of the Civil Rights Act of 1964, the state not only had an obligation to end de jure segregation, it also had an affirmative duty to end de facto segregation. The ensuing court battle lasted 38 years, reshaped Tennessee's university system, and set the benchmark for reforms across the South that supported equal access to higher education resources.
"The most lasting and important legacy of my friend, mentor and advocate, George Barrett, Esq., is his love and respect for the law and his passionate belief that it should be a sword and a shield for those most needing its protection," Geier said. "He used the law as he fought for the human rights of the condemned, the political rights of the disenfranchised, the free speech rights of the voiceless, the dignity and well-being of workers, and for a higher education system equal and open regardless of race. George would challenge all who teach and study here to possess the skills and the passion needed to achieve its goals."
Barrett was recognized along with Geier in 2012 with the law school's Distinguished Service Award.
"George was a phenomenal lawyer who was dedicated to using his talents as a lawyer to advance the legal and constitutional rights of minorities, the poor and working people," said Judge William J. (Joe) Haynes Jr. of the U.S. District Court for the Middle District of Tennessee. "He had a keen sense of fairness and justice, and from a lawyer's perspective, he represented the best at working for social justice. Naming Vanderbilt's Social Justice Program in honor of George Barrett provides students with an outstanding role model." Haynes graduated from Vanderbilt Law School in 1973.
U.S. Rep. John Lewis said that he was delighted that his longtime friend and fellow advocate in the civil rights struggle was being remembered through this generous gift. "George Barrett led by example through his distinguished law practice as well as in his own life, where he was always willing to stand up for what was fair and just, even if that meant challenging the accepted norms," Lewis said.
Robbins is a nationally recognized plaintiffs' lawyer who has served as lead counsel in many high-stakes securities class actions. "Darren Robbins is respected not just for his tenacity and skill as an advocate, but also for his dedication to those victimized by corporate wrongdoing," Guthrie said. "We are deeply grateful for his vision and generosity in endowing the Social Justice Program in George Barrett's name. "
As a result of this gift, the Social Justice Program, which is co-directed by professors Terry Maroney and Daniel Sharfstein, will support students and graduates pursuing social justice careers. It will provide competitive one-year public interest fellowships to Vanderbilt Law School graduates each year, fund a number of students doing public interest legal work in the summer, and serve as the hub of social justice activities at the law school, including programming throughout the school year and an annual public lecture.
"The students and graduates supported by this endowment will provide thousands of hours of pro bono legal services each year," Guthrie said. "This represents a major step forward in Vanderbilt's ability to train attorneys to work in the public interest and to serve the underserved in Nashville, around the country and abroad."