Media Inquiries
Latest Stories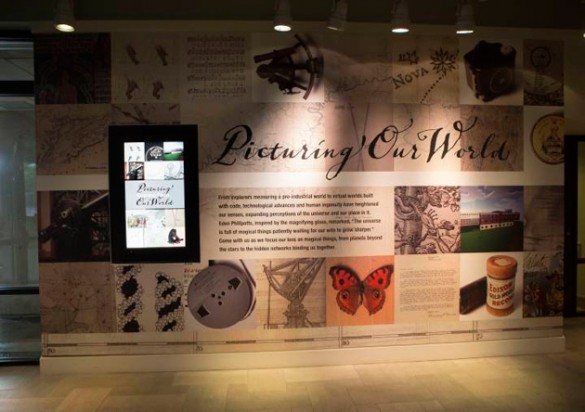 A new exhibition at Vanderbilt Libraries invites the community to expand its perceptions of the universe and locations closer to home with the help of digital technology.
"Picturing Our World," with displays ranging from three-dimensional views of Nashville and the downtown area to a telescope used by E.E. Barnard, Vanderbilt's first astronomer, is open to the public through July 2016.
"We were inspired by the projects that students who were part of the Dean's Fellowship Program recently did to think about print materials in different ways and visualize them with new technologies," said Celia Walker, director of special projects.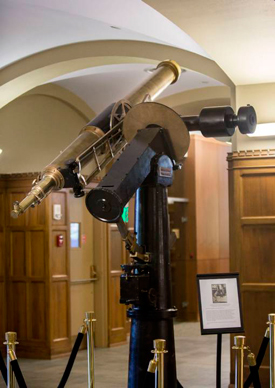 One way data is visualized in the exhibition is through three-dimensional modeling. Lindsey Fox, the library's Geographic Information Systems (GIS) coordinator, used a remote-sensed Lidar dataset, collected by the Metro Nashville Government after the 2010 flood, to create a 3D model of Nashville and the Cumberland River. In the display "3D Visualizations of the Cumberland through Nashville," visitors can look at two printed models to see the relief of Nashville's landscape shown at two different scales.
Clifford Anderson, director for scholarly communications, said there's a "twist" with a large display of postcards that opera singer Enrico Caruso sent during his many travels abroad. "These postcards are, in a sense, the essence of the places that people wanted to share with others at a time when there wasn't Instagram or Twitter," Anderson said. "At the library, we wanted to give viewers a sense of how extensive Caruso's collection was. Therefore, we used a technology to visualize all of the photographs at one time, relating them to each other by their saturation level and hue. That's taking a modern digitization and visualization technique and juxtaposing it with a 19th-century technique."
Another exhibit spotlights the correspondence of writer Flannery O'Connor by using metadata to encode the relationships among her letters in Vanderbilt Special Collections as well as those in letters held by other university archives. The result is a social network graph that enables viewers to examine and analyze O'Connor's intellectual life in a social network graph.
Also included in the exhibition are works from noted photojournalist Jack Corn, whose photos became the face of President Johnson's War on Poverty in the late 1960s. Corn devoted 23 years to capturing images of workers, their families and others in Appalachian mining towns in Kentucky, Tennessee, Virginia and West Virginia.
Visit Central Library Hours for a schedule of hours that the library is open to the public. For more information, contact Celia Walker.